Joined

Oct 27, 2014
Messages

2,948
Reaction score

0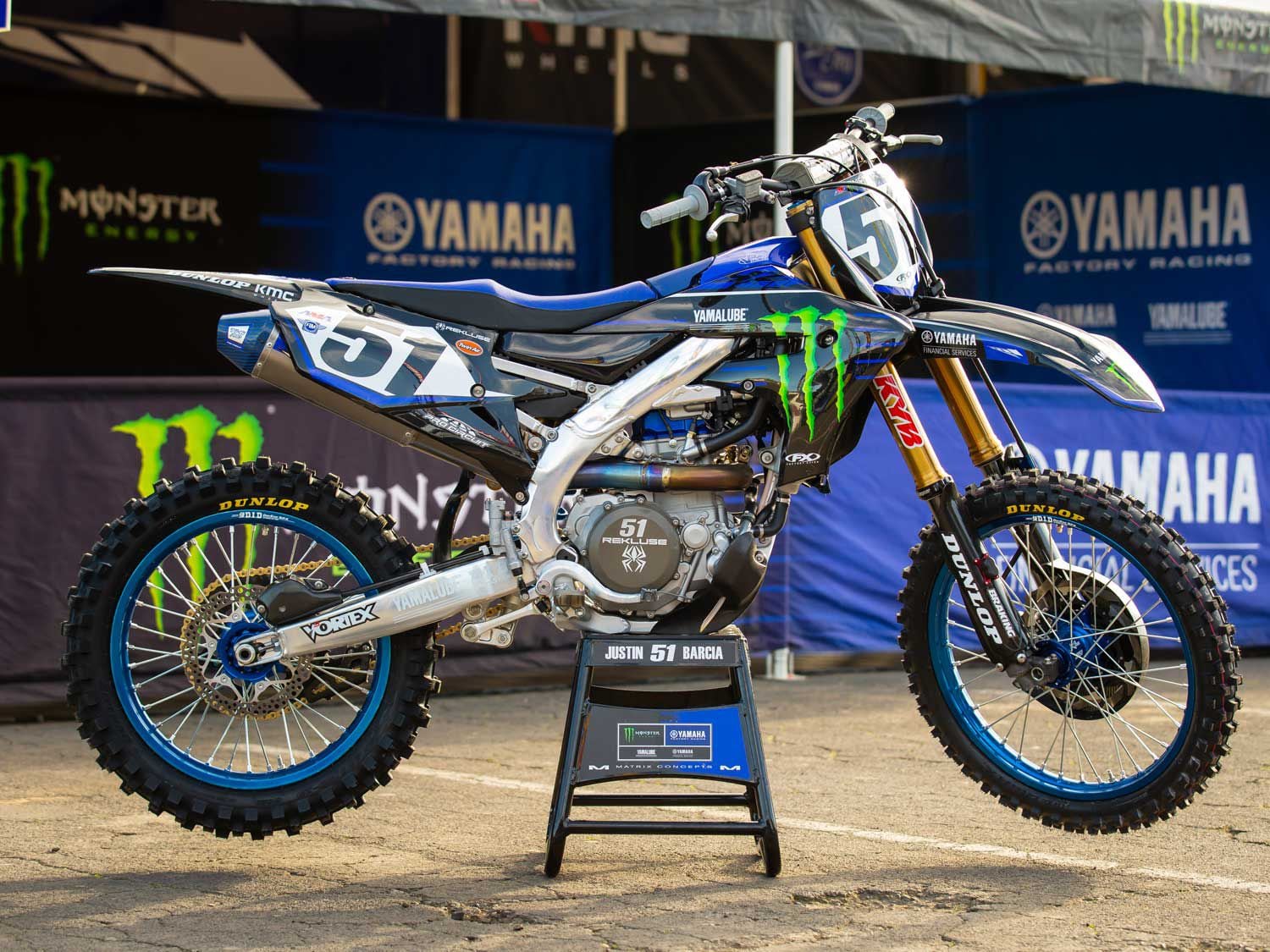 Justin Barcia spent a significant amount of time in California during the off-season testing with the Monster Energy/Yamaha Factory Racing team with the goal of getting as comfortable as possible on his YZ450F. (Spencer Owens/)
Justin Barcia
has gone a different direction in 2020. While from the outside, his
factory Yamaha YZ450F
may look fairly similar to last year, the New York native has gone with a remarkably different bike setup since he first signed with the Monster Energy/
Yamaha Factory Racing
team back in November 2017. Barcia's mechanic
Shawn Bell
gave us the rundown of the bLU cRU machine, which utilizes a surprising number of stock components.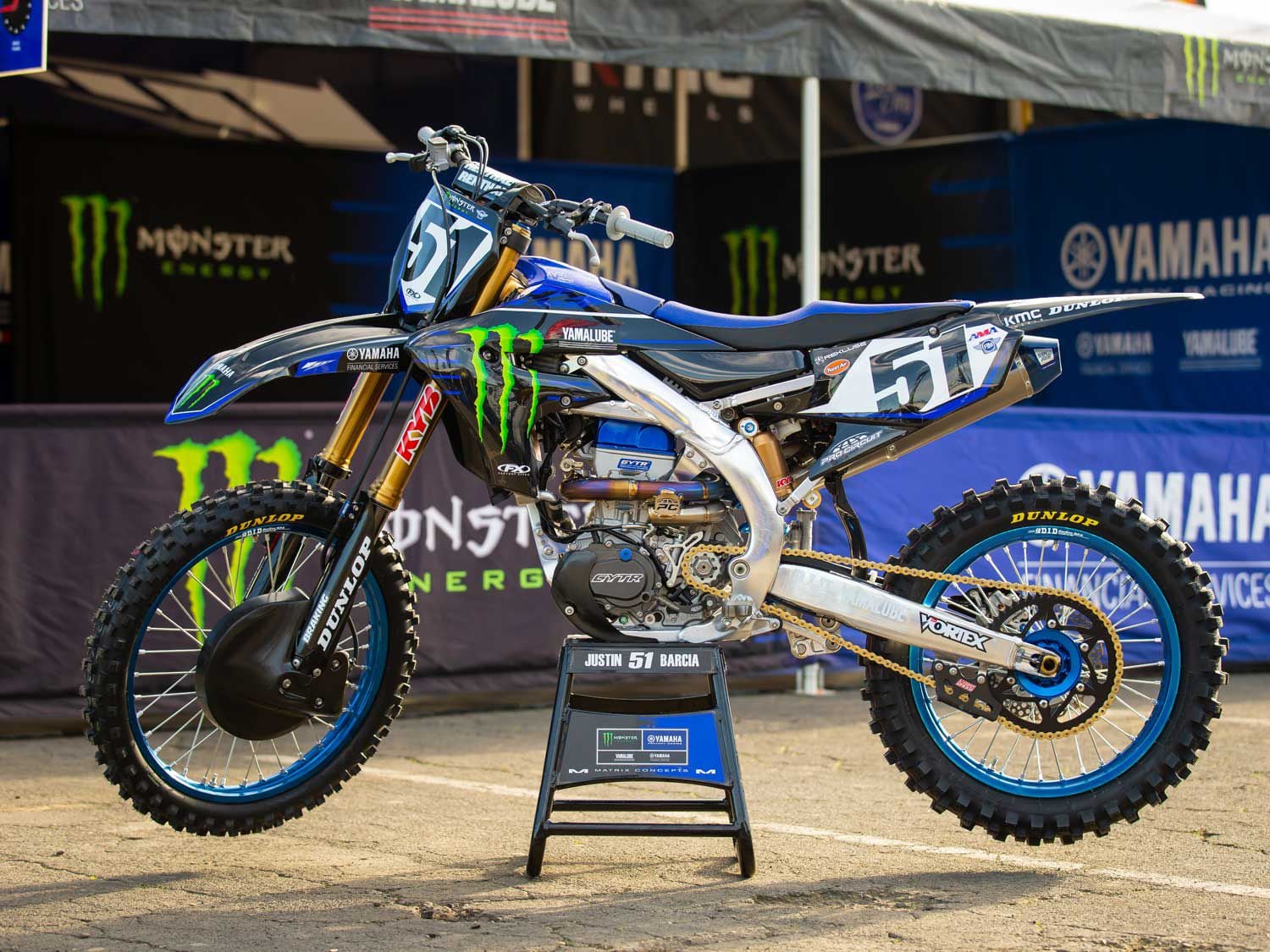 With the small but effective changes Yamaha made to its flagship motocrosser for 2020, Barcia now uses more stock components than ever on his bLU cRU racebike. (Spencer Owens/)
As far as the engine package on Barcia's bike, Bell told us the team keeps it pretty basic and that they do not use many aftermarket parts in the engine. He also mentioned the ECU is pretty standard and the mapping is similar to what comes on a
YZ450F straight off the showroom floor
. The reason for Barcia's fairly stock powerplant is because during an extensive amount of testing in the off-season, that is what he and the team have found works best for him.
"He really likes the standard motorcycle more than anything," Bell said. "We kind of went that direction [this year]. It's much smoother and just easier to ride. He likes to ride the bike wide open and it's just easier for him to manage riding it that way."
Related:
2020 Factory Supercross Bikes—Dylan Ferrandis' Yamaha YZ250F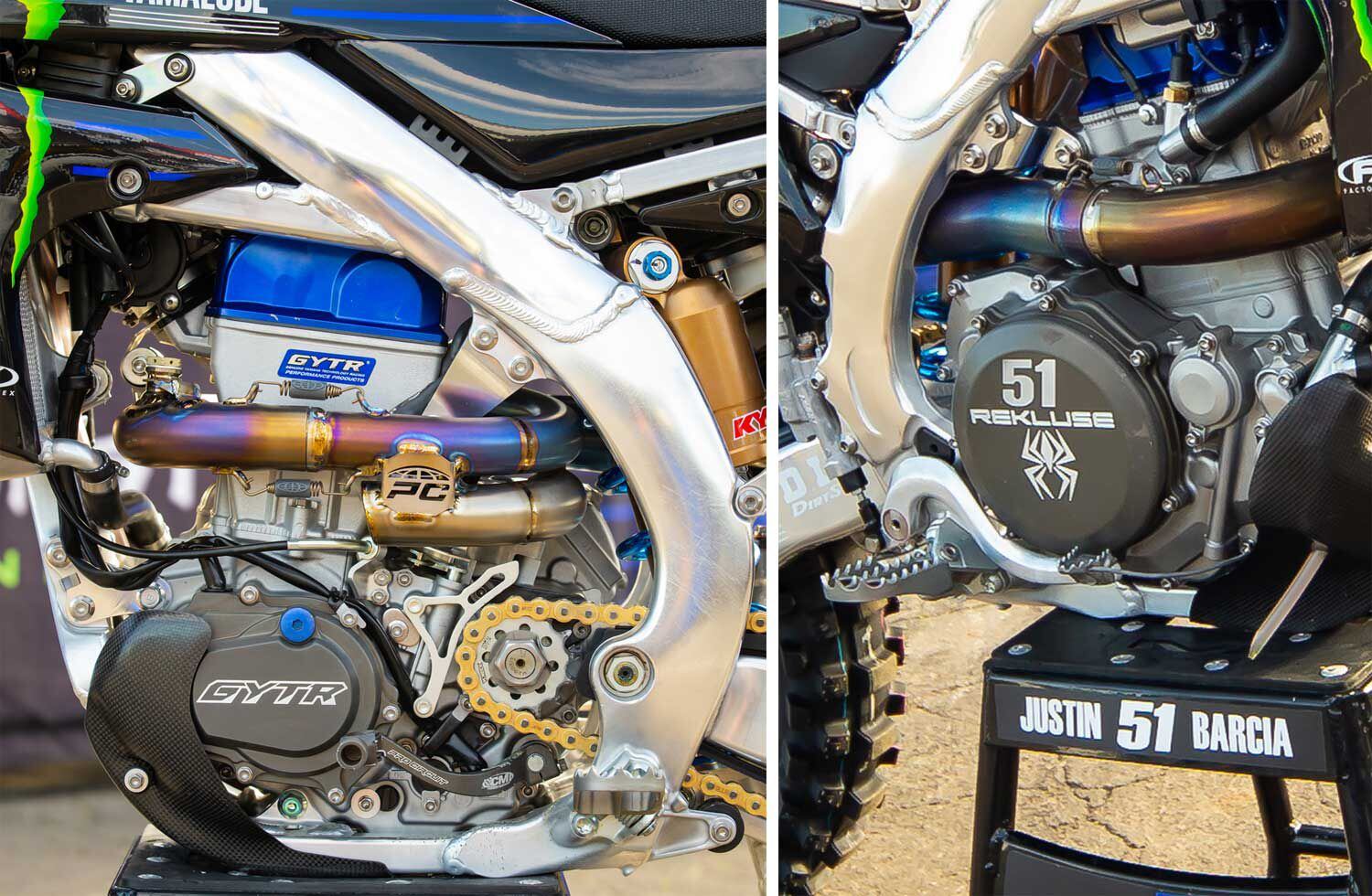 <strong>Left:</strong>Barcia's mechanic Shawn Bell informed us the engine package is pretty basic and the use of aftermarket components inside the powerplant are minimal. He added that the mostly stock engine is smoother and easier for Barcia to ride in his preferred style—wide open. <strong>Right:</strong>The team has switched to Rekluse clutches for 2020. Bell commented that Barcia is very hard on the clutch because he rides the bike at full throttle most of the time and modulates the power delivery with it. (Spencer Owens/)
Mitch Payton builds a custom Pro Circuit Ti-6 Pro for the factory
YZ450Fs
, which is developed by the team. Some external differences from an off-the-shelf Ti-6 Pro include the large resonance chamber on the head pipe and an O2 sensor bung on the mid-pipe. The end cap is made of a special blue carbon fiber to match the color of the bike, while the head pipe, mid-pipe, and canister are all constructed of titanium.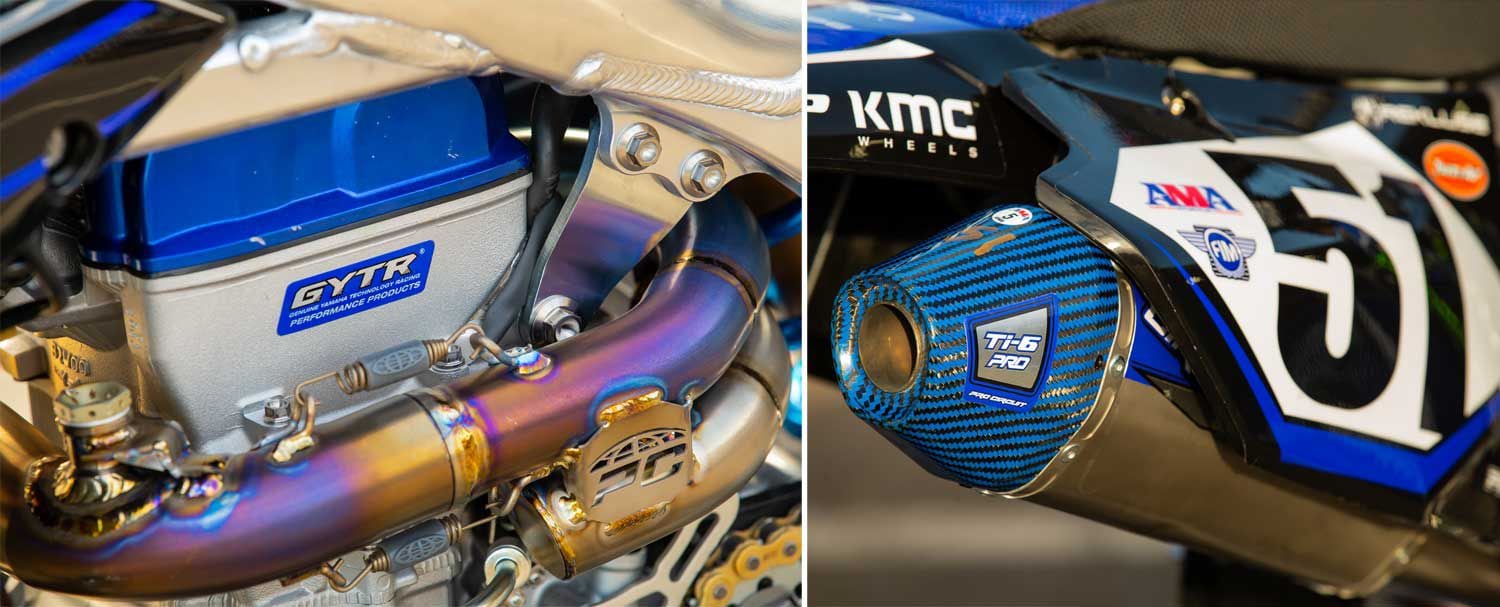 The Pro Circuit Ti-6 Pro exhaust system is custom built for the team. Some discernible differences from an off-the-shelf unit include the large resonance chamber on the head pipe, an O2 sensor bung on the mid-pipe, and a special blue carbon fiber end cap on the muffler. (Spencer Owens/)
Air filters are supplied to the team by Twin Air. On the left side of the engine is a CMI shifter provided by Pro Circuit and the stock ignition cover is swapped out in favor of a Genuine Yamaha Technology Racing (GYTR) unit. Also, the team switched to Rekluse clutches this year, which is an item Barcia shows no mercy to.
"He's probably one of the hardest people on a clutch because the bike is wide open and he's controlling everything with the clutch," Bell explained. "It's not really throttle control, it's more clutch control. We try to [replace] it every time [the bike] is on the track, but you have to break in clutches because a brand-new clutch [performs] different than one that has a couple laps on it."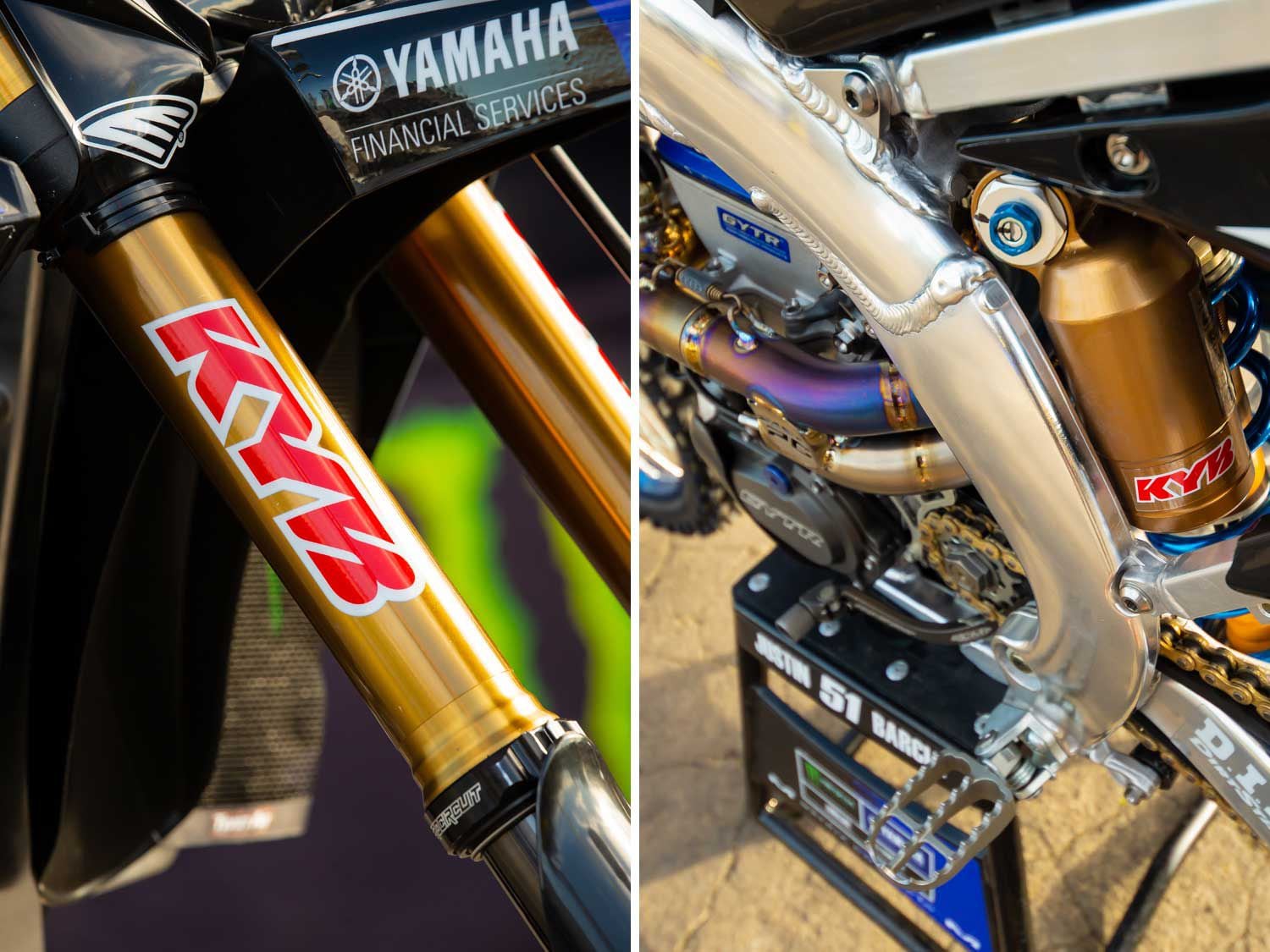 Perhaps the least stock part of the Monster Energy/Yamaha Factory Racing YZ450Fs are the factory KYB suspension components. Bell explained that Barcia likes to have plenty of weight on the front end so that he's able to steer the bike more easily. (Spencer Owens/)
Factory KYB suspension components are used on the front and rear of Barcia's YZ450F. Bell said they have gone all the way back to using standard internals with just the factory KYB outers. However, they built them back up from there into what Bell described as normal factory suspension, which is what Barcia is running now. As far as suspension setup, he is most particular about the balance with an emphasis on the front of the bike.
"Justin likes to have enough weight on the front just to be able to steer it," Bell remarked. "I would say that it's got plenty of weight on the front end and is not particularly high in the back, but not stinkbug—just kind of more biased to the front being down. If he's uncomfortable, his most common comment would be, 'I feel like the front end is too high.' "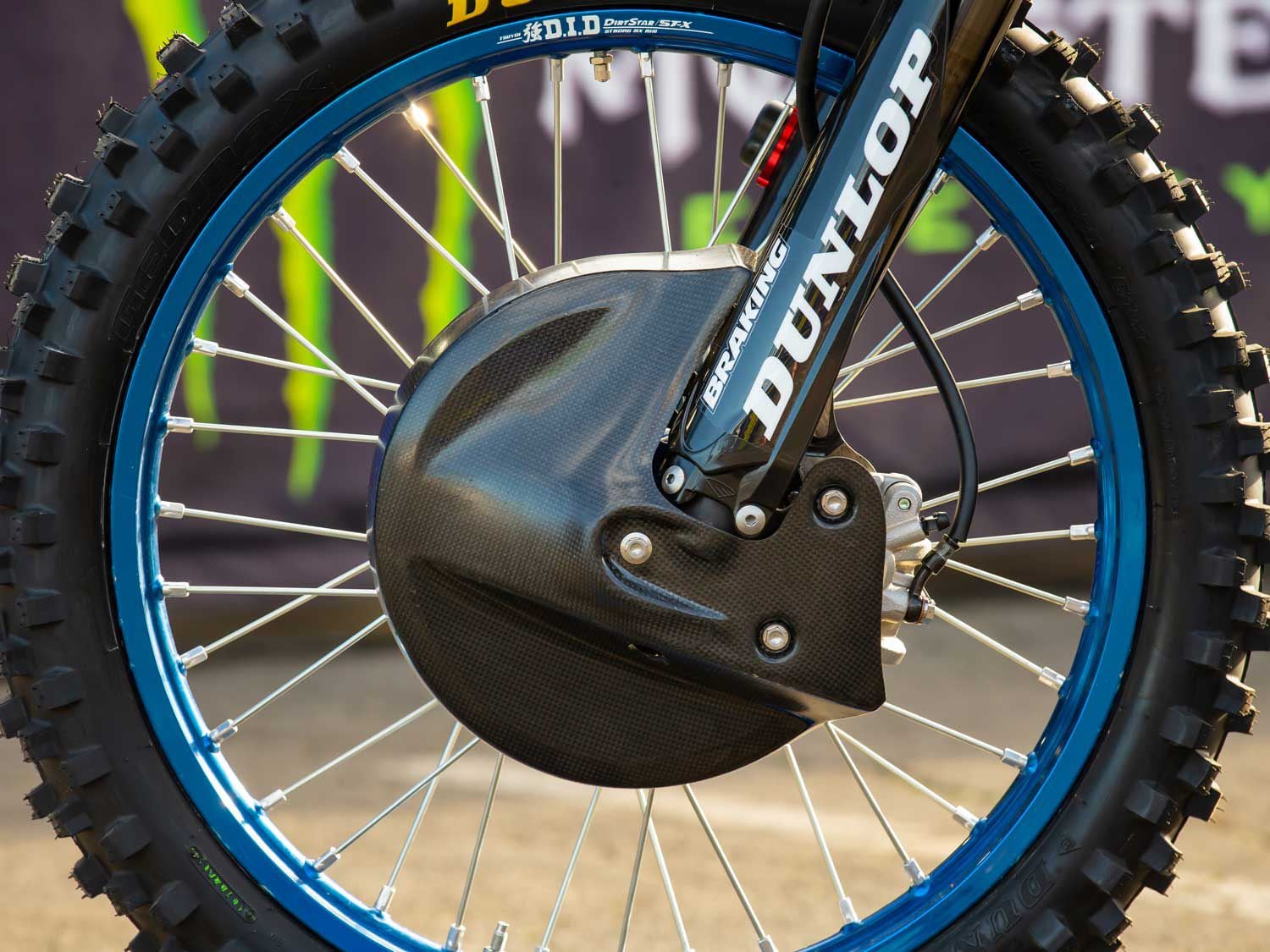 A carbon fiber disc cover protects the Braking Batfly Aluminum floating front rotor. The rest of the brake components including the front caliper, rear caliper, and rear rotor are stock. (Spencer Owens/)
Similar to the engine
, Barcia's YZ450F chassis features a number of stock parts including the triple clamps, brakes, and engine mounts. The use of OEM chassis components is something Bell credits to the changes Yamaha made to its flagship motocrosser for 2020.
"When he rode the bike stock in 2020, the small changes that they made were very impressive over the '19 [model]," Bell said. "Like you could go ride a '19 and it's completely different. It was very small changes, but that's what he liked. There was tons of traction in front and rear. And that was it. If you go look at our bike, it's standard [triple] clamps, standard brakes, all the way down to pretty much a standard motorcycle. We went and raced a couple races in Europe and we won Paris [Supercross], and that was a bike that Yamaha of Paris brought out to us and it was stock. The only thing I took was plastic and handlebars."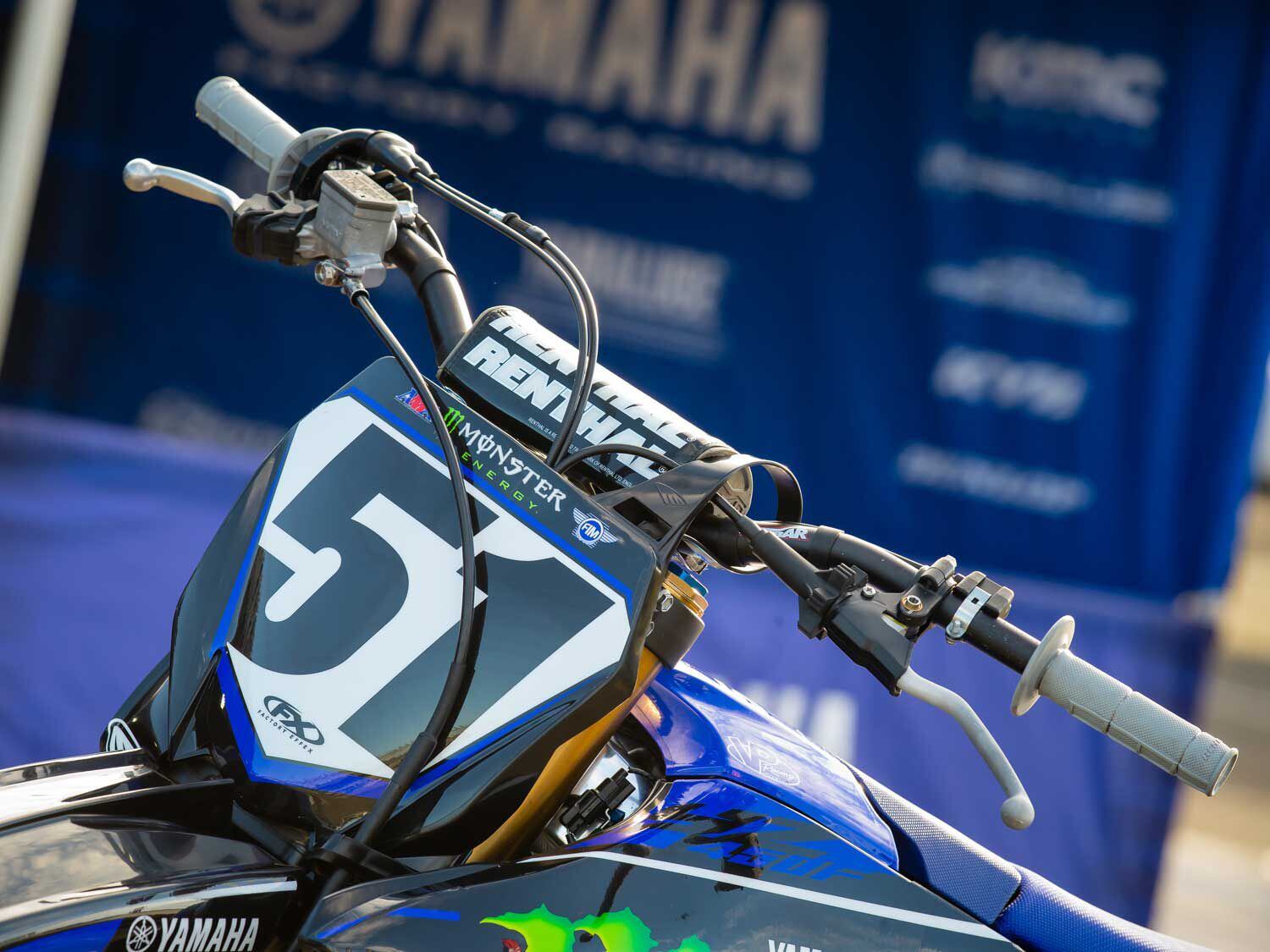 According to Bell, Barcia is not really picky about his handlebar or lever position. (Spencer Owens/)
The wheels consist of D.I.D DirtStar ST-X rims, Kite hubs, and Dunlop race spec tires. Vortex sprockets are employed front and rear, with Barcia running 14/53 gearing, along with a D.I.D 520ERV5 chain. The front brake disc is a Braking Batfly Aluminum floating rotor, while the rear is stock. In the control area is a Renthal Fatbar and Renthal half-waffle grips. As far as the handlebar and lever positioning, Barcia isn't critical about it.
"He's not real picky," Bell noted. "I could leave everything together from one week to the next and he's probably going to move it around or change it. It seems like it's just wherever."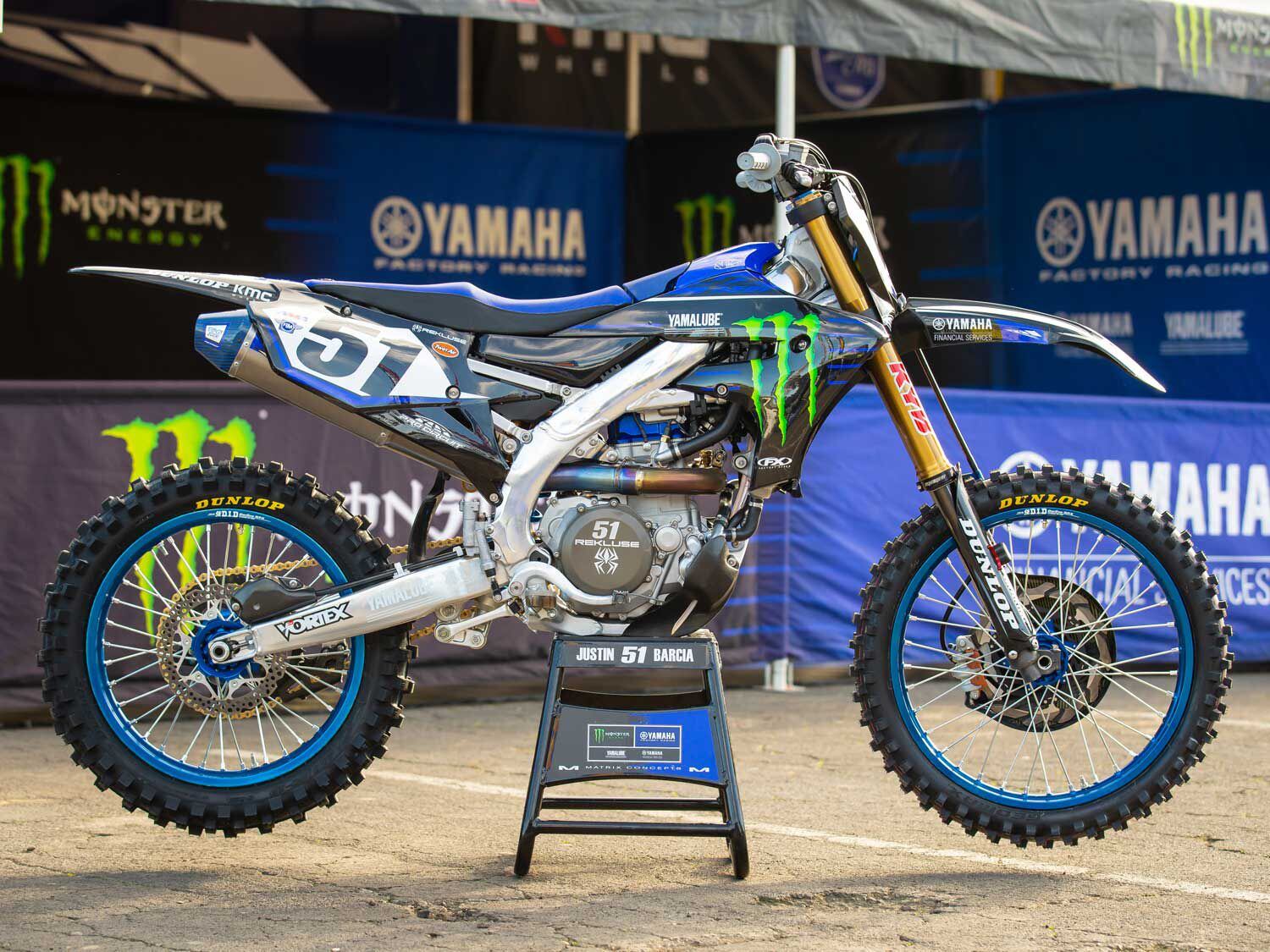 Bell explained that the main difference between Barcia's bike and his teammate Aaron Plessinger's is the balance. Barcia's is very front biased while Plessinger's is much more rear biased and very choppered out. (Spencer Owens/)
The front disc cover, skid plate, rear brake caliper guard, and LightSpeed Carbon chain guide are all made of carbon fiber. Aftermarket parts on the factory YZ450F include a Pro Circuit holeshot device, GYTR brake line pinch clamp, Twin Air radiator sleeves, Factory Effex seat cover, Cycra plastics, and Factory Effex graphics.
When asked what differentiates Barcia's bike from his teammate Aaron Plessinger's, Bell replied, "Oh it's a huge difference [with] those two. Aaron's balance is much more rear biased—very choppered out—and then Justin is very front bias, so they are the exact opposite [in terms of chassis setup]."
Read More HERE...