Joined

Oct 27, 2014
Messages

2,948
Reaction score

0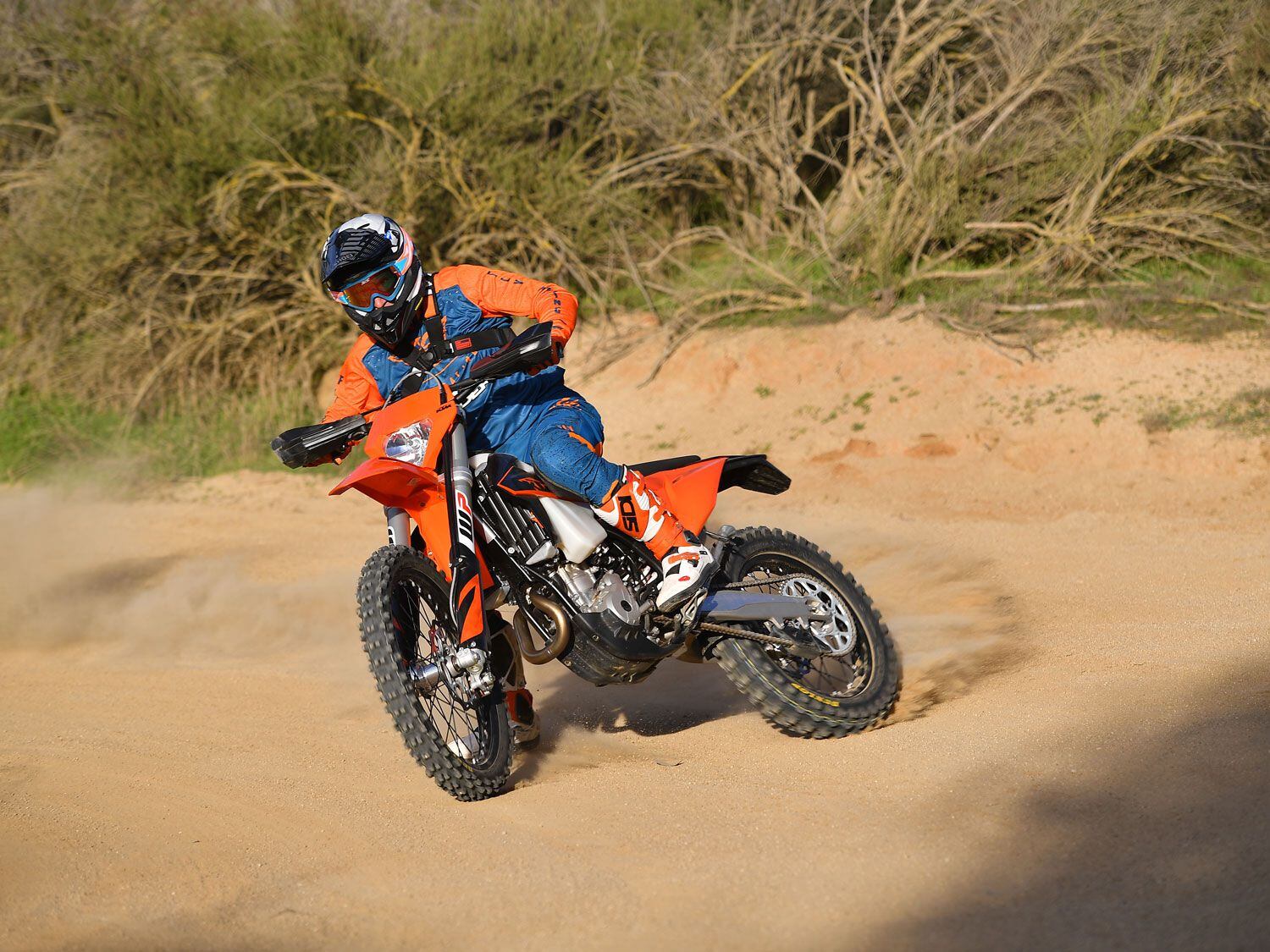 Riding the 2020 KTM 350 XCF-W. (Mark Kariya/)
High-end four-stroke enduro bikes from
KTM
are back in North America for 2020. After the 350 XCF-W was dropped from KTM's model lineup in 2017, your next best option for an orange 350 four-stroke enduro-type motorcycle was the
street-legal 350 EXC-F
. For 2020, KTM brought the 350 XCF-W enduro bike back and continues to offer
its 350 EXC-F dual sport
, giving riders the option of enduro or street-legal configurations.
Related:
2020 Husqvarna FX 350 Review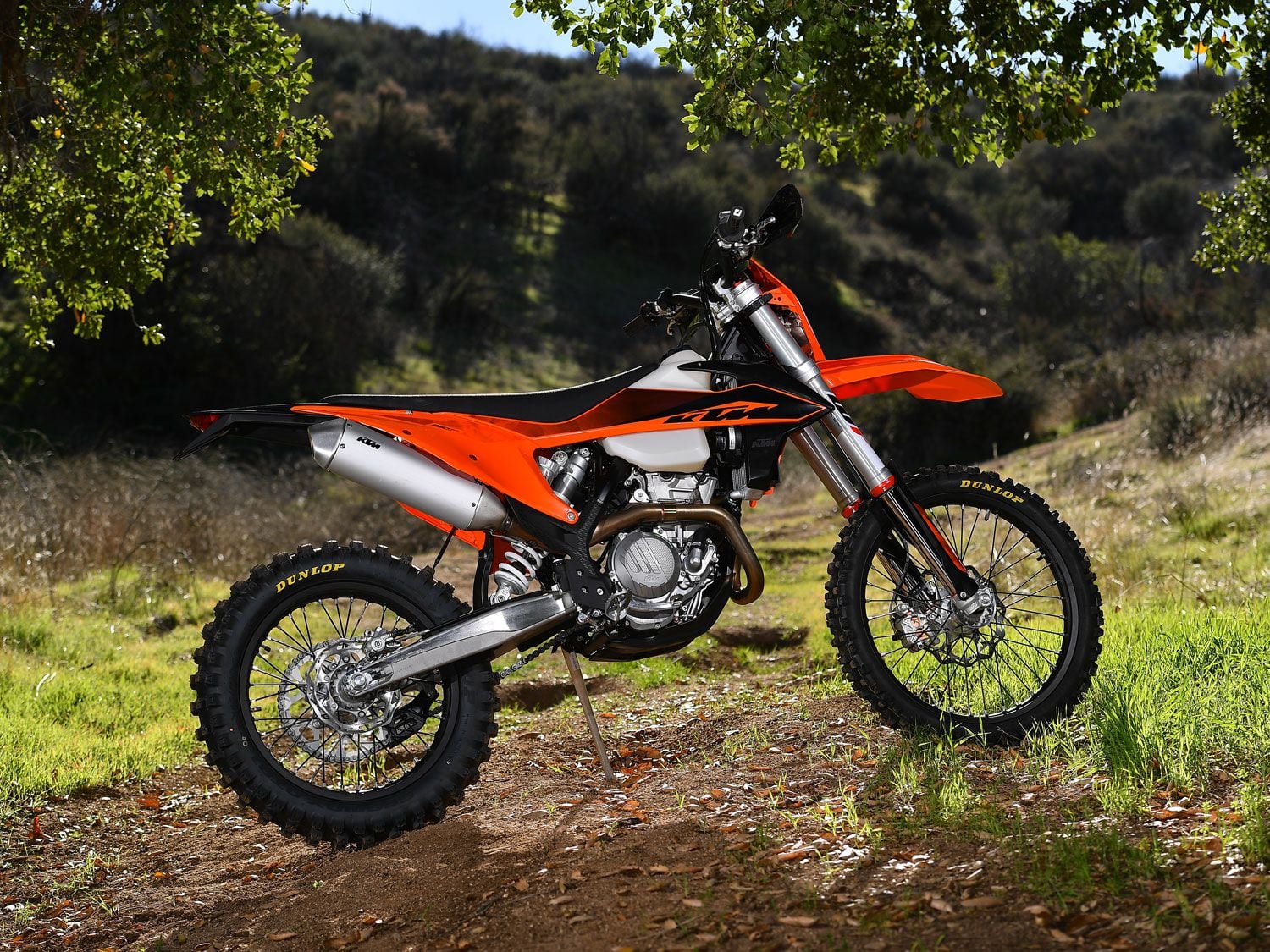 The KTM 350 XCF-W was dropped from the Austrian manufacturer's lineup in 2017. For 2020, the 350cc four-stroke enduro bike has returned. (Mark Kariya/)
Both bikes share most major components. However, the 350 XCF-W comes in a much more enduro, race-ready form. You still get the benefits of a 50-state emissions legal package, but without the added weight and clutter of the parts needed to make it street legal like on the 350 EXC-F. There aren't any turn signals to break off, no horn to flood with water, no brake light switches, no license plate bracket, no extra weight in the wiring harness, and no keys. The headlight and taillight are still included with the option of being able to turn them on and off as needed.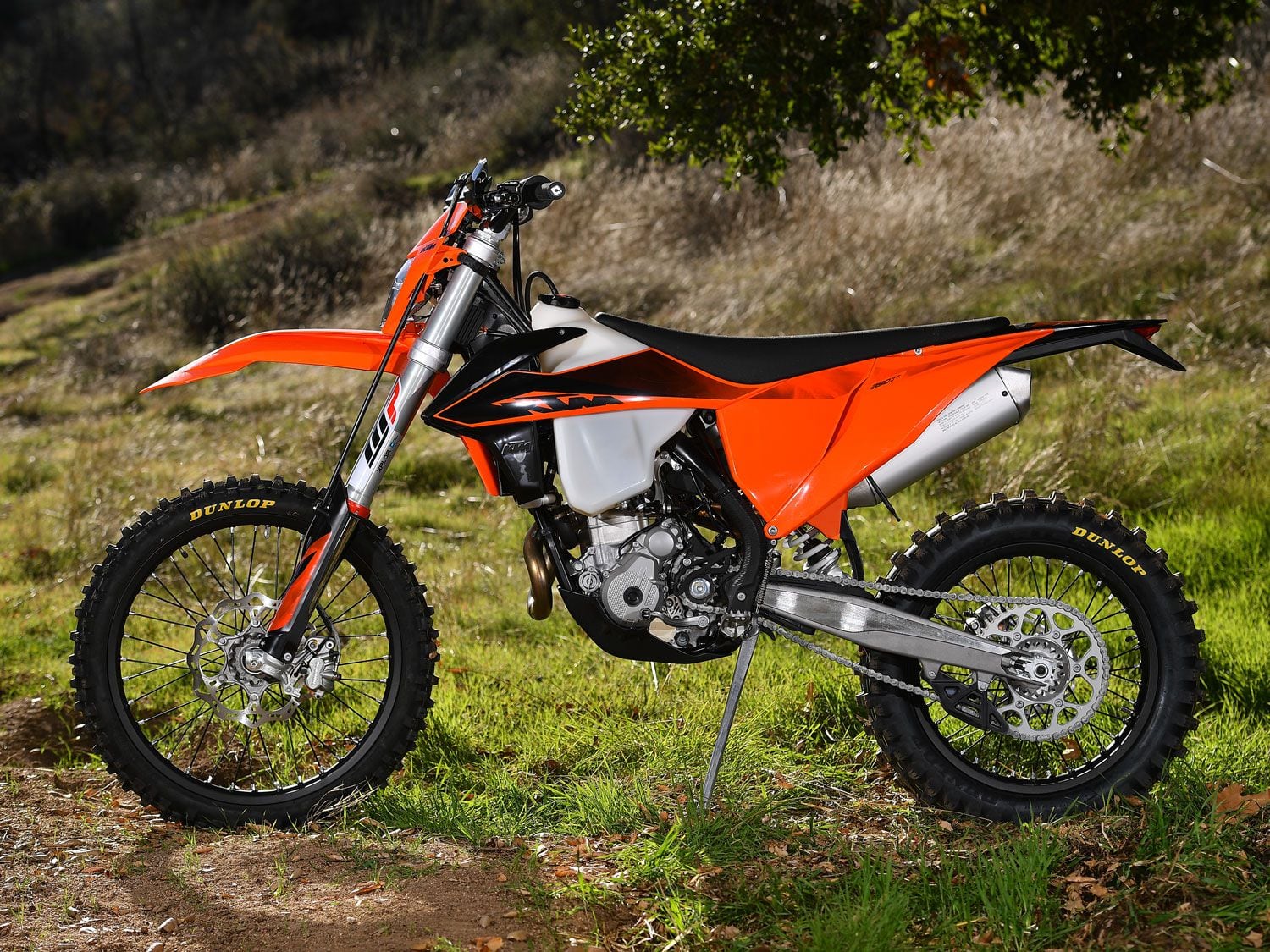 The 350 XCF-W shares most of the same major components as the 350 EXC-F dual sport model with the exception of the parts needed to make it street legal. The 350 XCF-W also has more aggressive ECU mapping, a handlebar-mounted dual map switch with selectable traction control, and Dunlop Geomax AT81 tires. (Mark Kariya/)
The great news is the 350 XCF-W has been completely updated since it was last on the market in 2016. It has KTM's latest-generation frame, engine, and bodywork. For suspension, it uses a WP Xplor 48mm fork and WP Xplor PDS shock. The new frame is stiffer for better overall handling and improved straight-line stability. The subframe is 40mm longer to improve rear fender stability. The bodywork and 2.25-gallon fuel tank were redesigned to offer better ergonomics and comfort. Some of the off-road-specific features and differences from the 350 EXC-F include more aggressive ECU mapping, a handlebar-mounted dual map switch with selectable traction control, and Dunlop Geomax AT81 tires.
2020 KTM 350 XCF-W Engine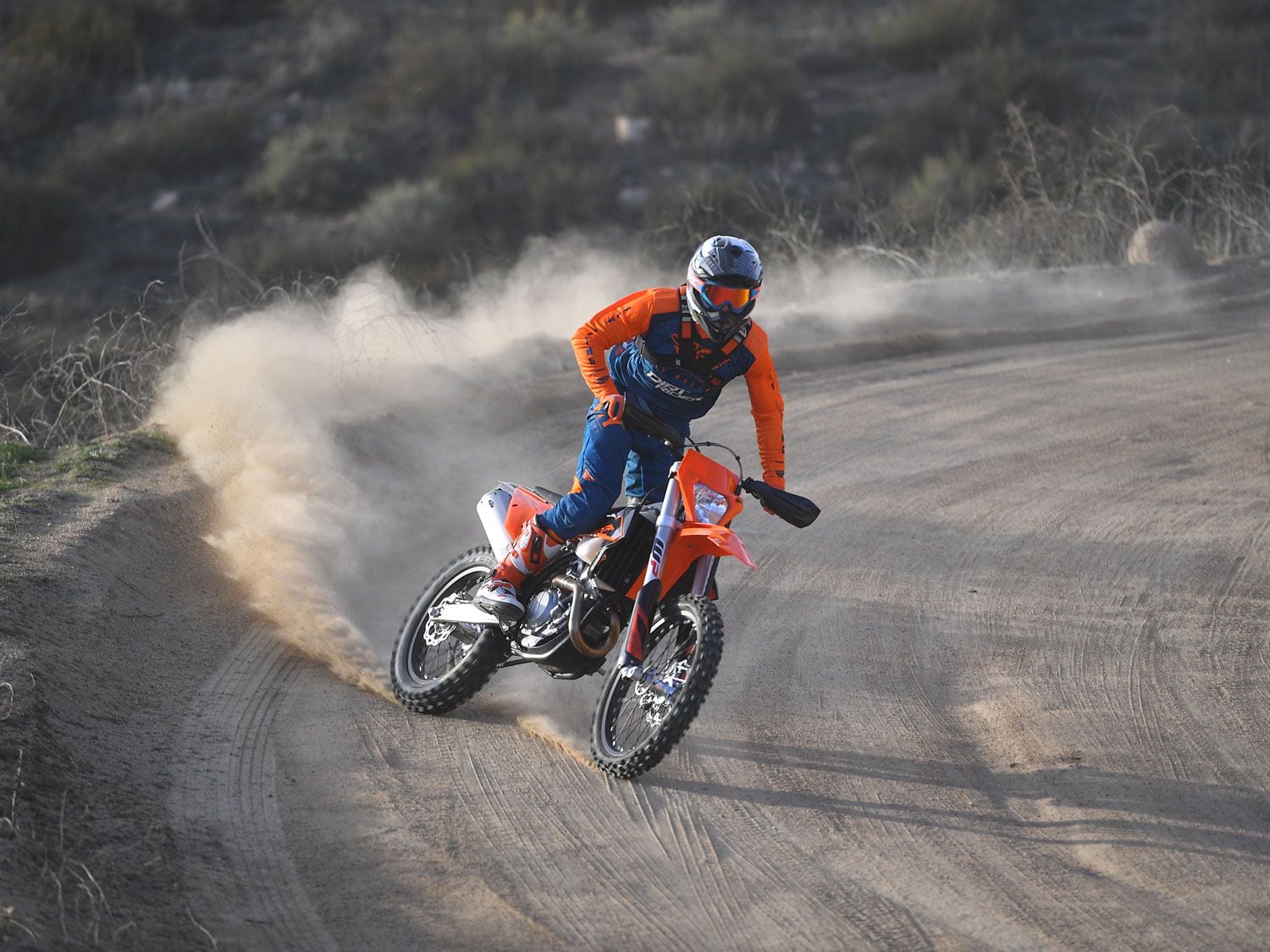 Being that it's a 50-state legal bike and therefore green-sticker legal in California, the 350 XCF-W engine is incredibly restricted in stock trim. (Mark Kariya/)
The 350 is one of KTM's best engines. It is packed with so much usable power. It's the same engine that comes in the SX-F and XC-F models with the exception of a revised cylinder head and camshafts. Unfortunately, to meet the regulations to make it a
50-state legal bike
, there are some parts on it that, let's say, greatly restrict its potential. There is a reed valve in the airbox to reduce intake noise, it has a smaller-diameter header pipe with an O2 sensor, there is a catalytic converter stuffed into the mid-pipe, and the muffler has an end cap with an outlet hole smaller than one you would find on an 85cc two-stroke. The good news is the 350 XCF-W is quiet—so quiet that if you ride with earplugs, you might not even know it's running.
As expected, it's down on power in comparison to the SX-F and XC-F versions. Fortunately, the torque is still decent and the counterbalanced engine runs so smooth you can rev it much further and get more power out of it than you realize. Once you learn how you use the power that is available, for the most part, you will only be limited by your own skill level.
The 350 XCF-W has a wide-ratio six-speed gearbox. It has your expected very low first gear with some noticeable gaps in first through fourth. I would say this is because the engine is a little down on power, meaning you really have to remember when to downshift. It's easy to get caught in a gear too high. Once again, KTM has the hydraulic clutch system figured out. The Brembo unit works flawlessly.
How Does The 2020 KTM 350 XCF-W Ride?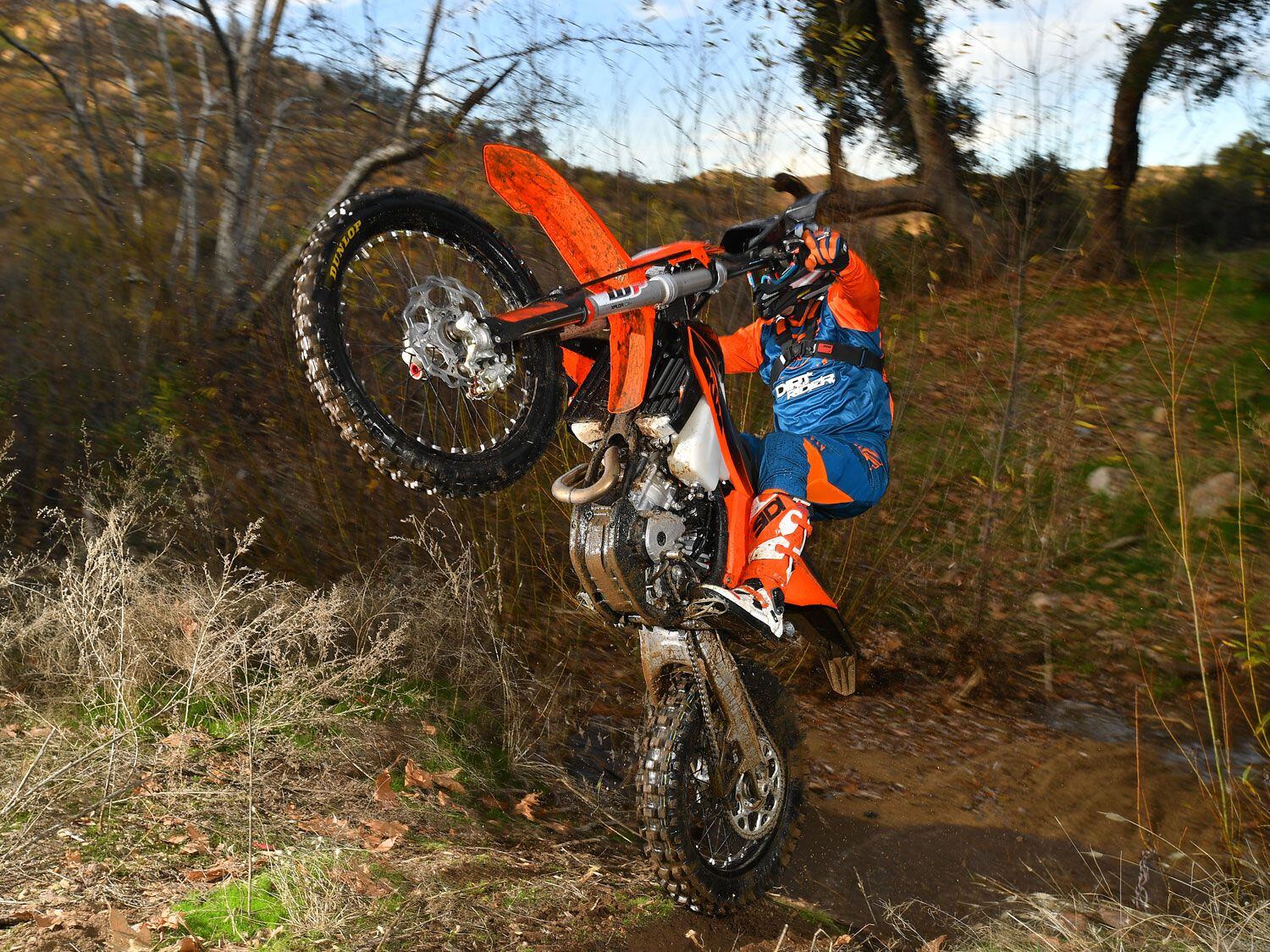 The WP Xplor 48mm fork and WP Xplor PDS shock offer plenty of comfort without sacrificing too much performance. (Mark Kariya/)
I received the 350 XCF-W and was unsure about what level of performance to expect. It was obvious the engine is somewhat restricted because of the regulations required to be in compliance with all 50 states. Additionally, I thought the Xplor 48mm fork and Xplor PDS shock were maybe going to be a little soft.
We spent a few hours shooting photos and playing around on the bike before I could take it home and really start messing with it. I was very limited to what I could do to improve the engine power other than the map switch and maybe the throttle reel, so I quickly moved on to the chassis and suspension.
One of the first things I noticed when comparing this bike to
KTM's
motocross and cross-country models was that the handlebars are different. The handlebar on the 350 XCF-W seems to have a little more sweep and is about 25mm narrower. In my book, that is a good thing as I believe the stock handlebar on the SX-F and XC-F models are far too wide.
I began to make a few adjustments. I took out the free play in the rear brake pedal that comes from the factory, then adjusted the handlebar and levers to what felt comfortable for me. I set the sag at 105mm and checked the suspension settings. Knowing the bike was fairly soft from my experience riding it during the photo shoot, I decided to adjust everything in. I went halfway to fully closed from the stock settings, meaning if the compression was at 12 out, I went to 6 out. If the high-speed compression on the shock was at three turns open, I went to 1.5, and the same for the rebound adjusters. I did this on both fork and shock.
Heading out for my first real ride on the 350 XCF-W, I immediately felt very comfortable. I liked the ergonomics and seating position. It's an on-top-of-the-bike position you get with a KTM, and the slightly narrower handlebar suited me perfectly.
In the beginning, I was concerned the bike was going to be underpowered, but I was pleasantly surprised at how well it climbed some of the initial bigger hills on the loop we were riding. The upside is that what you lose in power, you gain in traction and ease of bike control.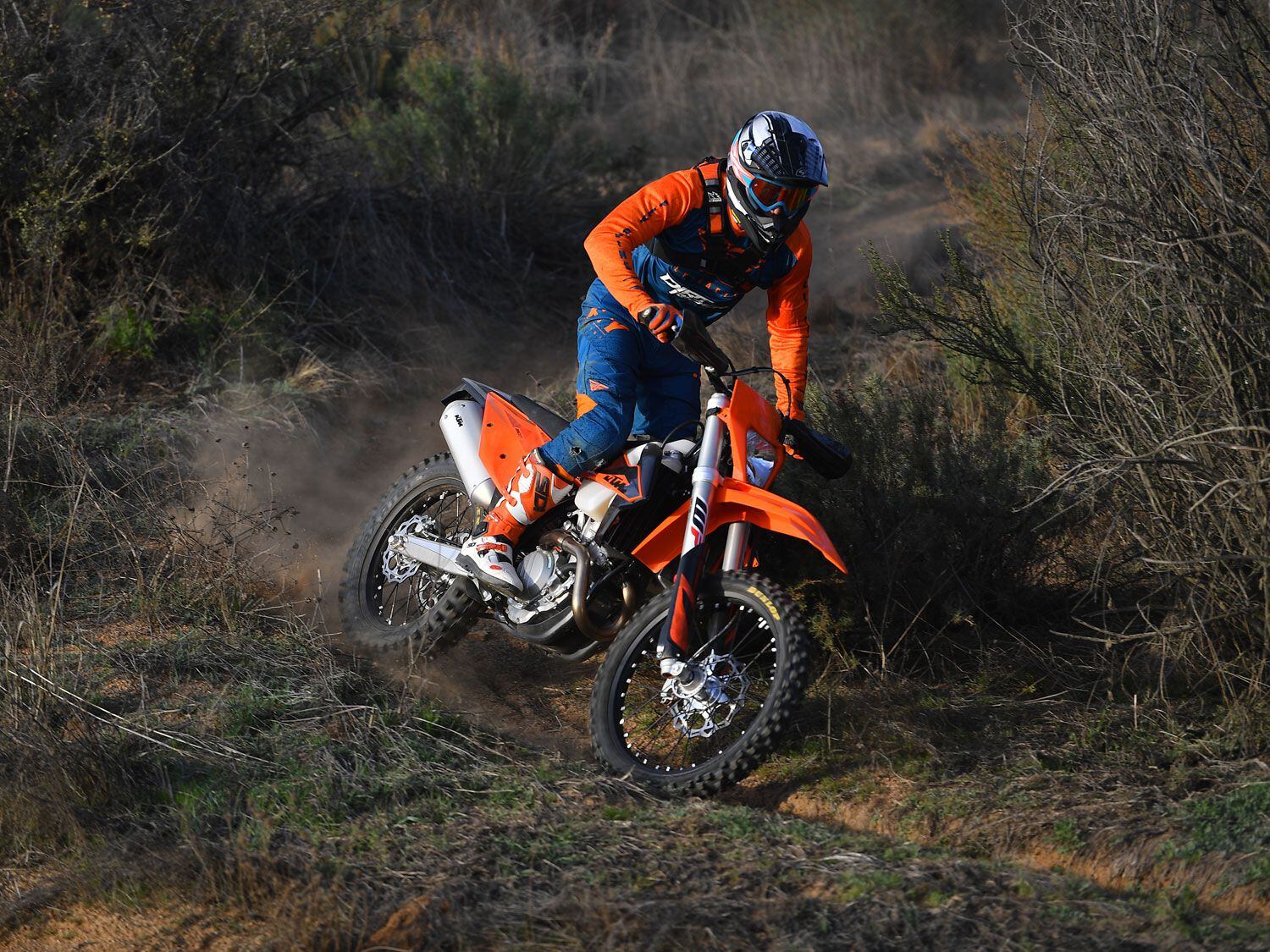 The 350 XCF-W's chassis is easy to control. (Mark Kariya/)
We hit a few rock sections and the suspension worked very well, to the point I had to remind myself this was a brand-new bike with stock lightweight tubes, so I had to back it down before I got a flat. Once we got rolling into some faster-flowing single-track, I was expecting the chassis to be a bit difficult to control. I also expected the suspension to go far too deep into the stroke, resulting in a hard-to-control rebound. Again, I was pleasantly surprised that the suspension was able to offer so much comfort yet still have a reasonable amount of control. Only in the most extreme G-outs did I get the sensation the bike wanted to get away from me.
The Brembo brakes on the KTM are some of the best on the market. The clutch worked flawlessly and shifting was buttery smooth. The more time I spent on this bike, the more confidence I gained in what it could do, which resulted in me having more fun. Its all-around balance of stability and tight trail maneuverability are great. The super-smooth engine allowed me to focus more on my riding technique and not having to worry about losing control of the bike.
I would recommend the 2020 KTM 350 XCF-W for just about any skill level of rider. Its smooth, controllable power and comfortable suspension make it a great bike for an adult beginner. An expert-level rider can certainly enjoy the 350 XCF-W as well. In stock trim, it's a fantastic bike that you can ride almost as hard as you want. If you are a more advanced rider, you may want to make some modifications. There is room for improvement in the suspension department. Also, adding a less restrictive muffler and opening up the airbox could probably increase the engine's peak horsepower by 10. Remember, this is the same engine as the KTM 350 SX-F and we know it rips. I would put the 350 XCF-W on my list as one to have in my long-term garage fleet.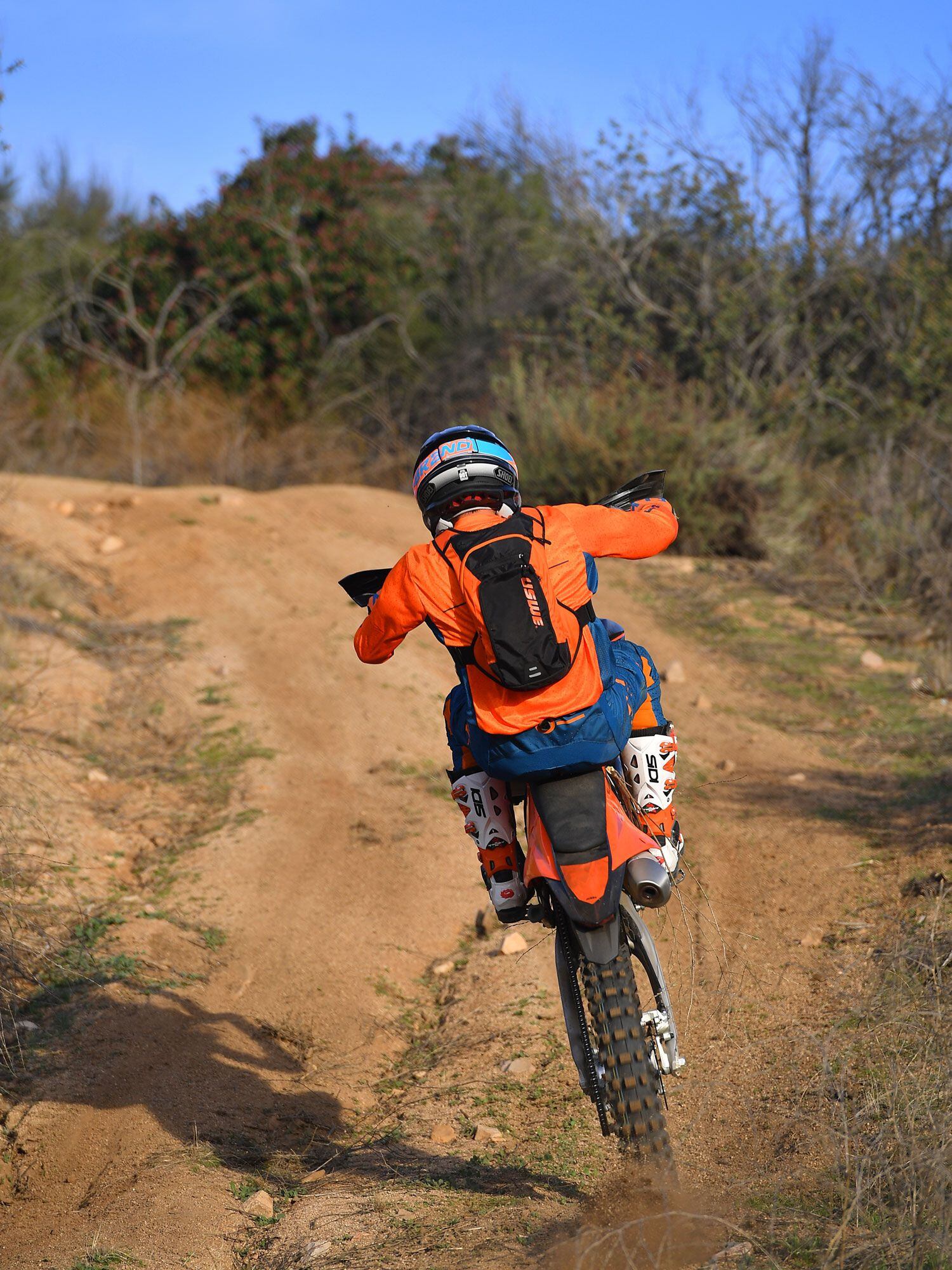 In stock form, the 350 XCF-W is ready for any level of rider, from beginner to expert. (Mark Kariya/)
Gearbox
Helmet:
Shoei VFX-EVO
Goggle:
EKS Brand Gox
Hydration Pack:
USWE Tanker 16
Jersey
:
Fly Racing Lite
Gloves:
Fly Racing Lite
Pant:
Fly Racing Lite
Boots:
Sidi Crossfire 3 SRS
2020 KTM 350 XCF-W Tech Spec
| | |
| --- | --- |
| PRICE | $10,499 |
| ENGINE | 349.7cc, liquid-cooled, single-cylinder four-stroke |
| TRANSMISSION/FINAL DRIVE | 6-speed/chain |
| FRAME | Steel central double cradle |
| FRONT SUSPENSION | WP Xplor 48mm inverted fork adjustable for compression and rebound damping; 11.8-in. travel |
| REAR SUSPENSION | WP Xplor PDS shock adjustable for spring preload, high-/low-speed compression damping, and rebound damping; 12.2-in. travel |
| FRONT BRAKE | Brembo 2-piston caliper, 260mm disc |
| REAR BRAKE | Brembo 1-piston caliper, 220mm disc |
| WHEELBASE | 58.3 in. |
| SEAT HEIGHT | 37.8 in. |
| FUEL CAPACITY | 2.25 gal. |
| CLAIMED WEIGHT | 232 lb. (w/ all fluids except fuel) |
| AVAILABLE | Now |
| CONTACT | ktm.com |
Read More HERE...