Joined

Oct 27, 2014
Messages

2,948
Reaction score

0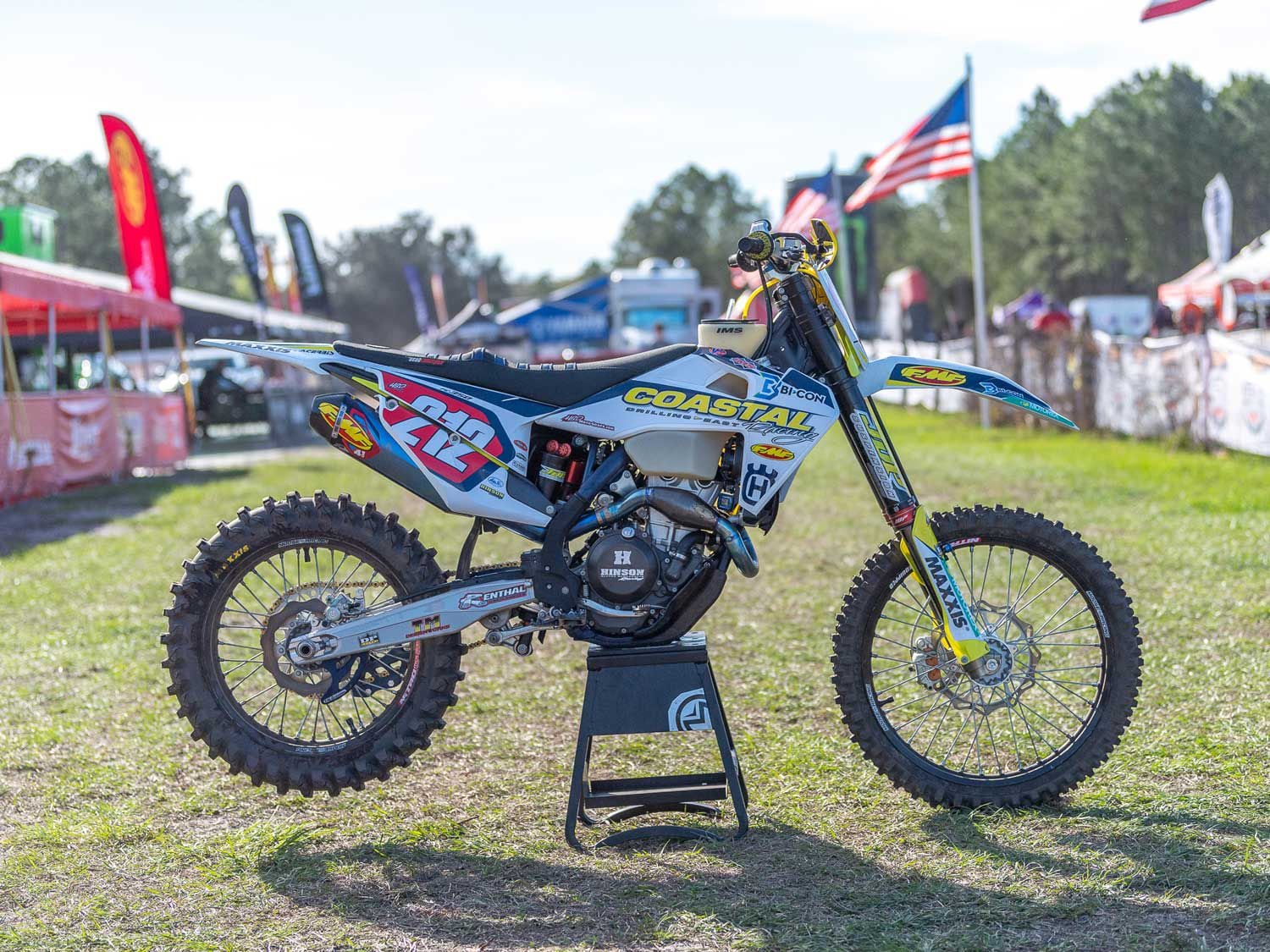 In addition to switching to the Coastal Racing Husqvarna team for 2020, Ricky Russell has also gone to a bit stiffer suspension settings this year, which he says has made a big difference in his riding. (Shan Moore/)
After a long stint with
Yamaha
,
off-road ace Ricky Russell
signed with
Coastal Racing Husqvarn
a during the off-season to compete in the XC1 Open Pro class in the
AMA Grand National Cross Country
(GNCC) series, the pro class in the
Kenda AMA National Enduro
(NEPG) series, plus select hard enduro events.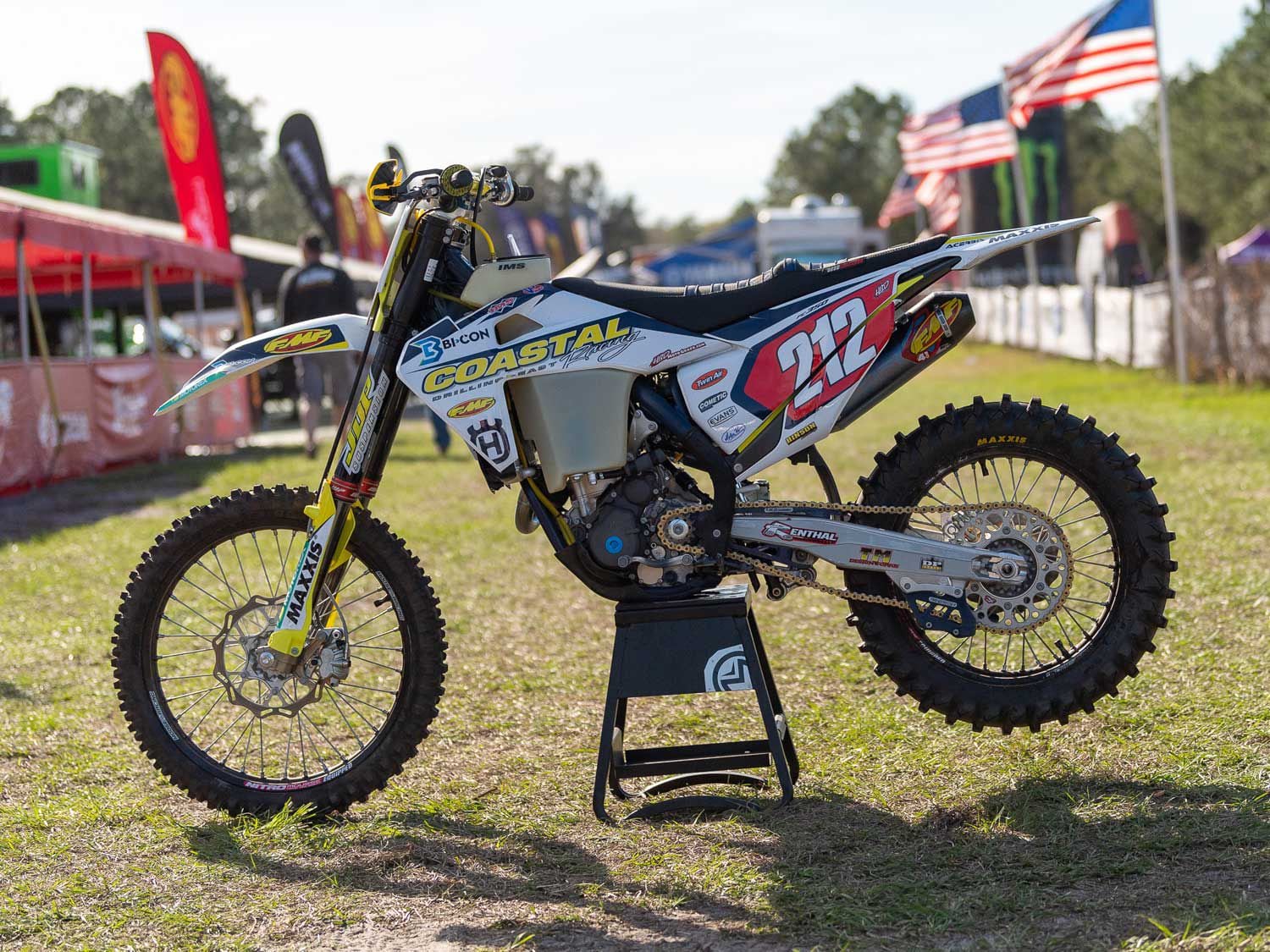 Russell runs one of the biggest seat bumps we've ever seen. He uses it to push off of and to remind him where he's at on the bike. (Shan Moore/)
Russell kicked off the season with an impressive runner-up finish at the Big Buck GNCC in Union, South Carolina, behind seven-time champ Kailub Russell. At the Wild Boar GNCC in Palatka, Florida, we spoke to Russell and his mechanic Shawn Mundy about the Coastal Racing
Husqvarna FC 350
racebike.
Related:
2020 Factory Off-Road Bikes—Thad Duvall's Husqvarna FX 350
Starting with the suspension, Russell is looking for comfort, but he likes it to be firm. That hasn't always been the case though.
"Honestly, I've always been on the soft side of things," Russell said. "This is the stiffest stuff I've ridden since I've been on the new team. I think running the stiffer setup has actually been the game changer for me [in that I'm] able to go faster speeds and [be] more aggressive. I've just got to stay aggressive because you know when [the suspension] is not working that well, you're not going fast enough. So as long as you're going fast enough, it's working really well. I think that's kind of been a big improvement this year."
As far as how he likes the power delivery, Russell says he is now a revver instead of a lugger, which is due in part to his switch from a
Yamaha YZ450FX
to the
Husqvarna FC 350
.
"I used to lug the bike a lot," Russell explained. "Coming from a 450, I'd lug it a lot more, but now on the 350, I actually rev it a lot more than I used to, just because the bike actually runs better like that. That was kind of one of my biggest things to get used to because the bike likes to be revved almost like a 250, but it still has more power and torque than a 250. I still like to keep it in the [rpm]; it seems like it runs better there."
Despite his newfound fondness of revving the bike, Russell is relatively easy on clutches.
"I've always been pretty easy on the clutch," Russell said. "I try not to fan it too much. I don't think I'm as hard [on clutches] as Thad [Duvall] and some of the guys. I'd like to say I kind of relate to Kailub [Russell]. He's kind of smoother. [He] tries to be smoother at times and when he needs to, [he] attacks and gets a little wild, but kind of easy on the clutch."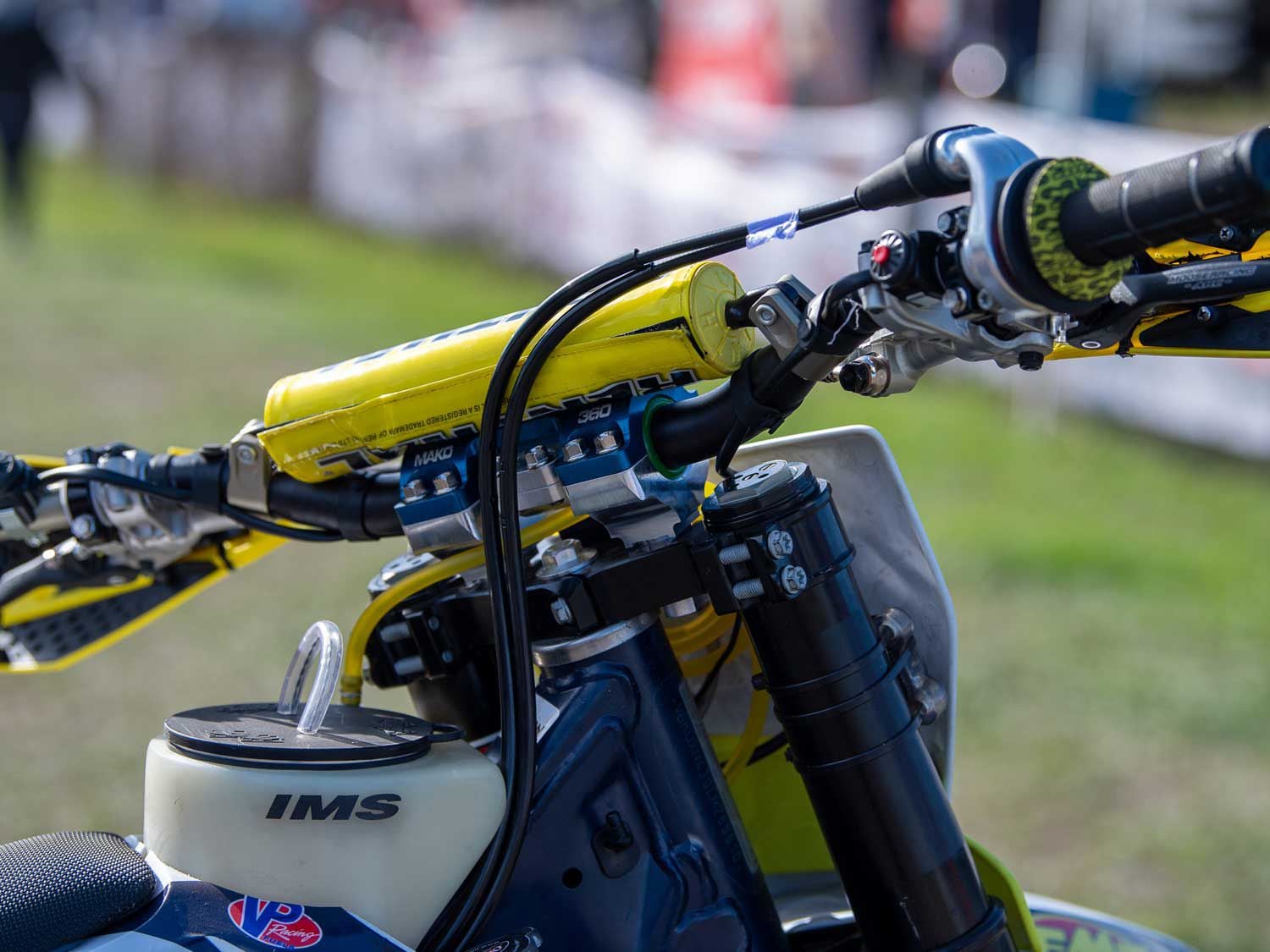 Russell opts for a lower Renthal bar bend combined with XC Gear Mako 360 handlebar mounts. (Shan Moore/)
Russell is one of the tallest riders on the circuit, but surprisingly he runs a lower Renthal handlebar.
"I always have," Russell said of his relatively low bar bend preference. "We run the XC Gear Mako 360 clamps. I love that. It raises the bar a tiny bit, so then I run a lower bar and it actually ends up being slightly lower than stock—barely."
As far as personal preferences, Russell is particular about the cockpit area—most notably the controls.
"Really, I just want Shawn to make sure everything is comfortable for me," Russell said. "Bar position, levers, a certain seat—I like a stiff seat. Just little things. Just as long as I'm comfortable, I'm happy. That's how everyone is. There are little things every rider likes in particular. I'm big about my levers and that stuff. I kind of do all that. Shawn sets it up where he thinks and I kind of fine-tune it. From there, he does all the big stuff."
Mundy filled us in on more of the technical details of Russell's FC 350. At the front of the bike is a WP Cone Valve fork while in the rear is a WP Trax shock. Both units are tuned by a Lancaster, Ohio-based shop called JDP Suspension.
"JDP does our suspension work, and everyone is really happy with it," Mundy noted.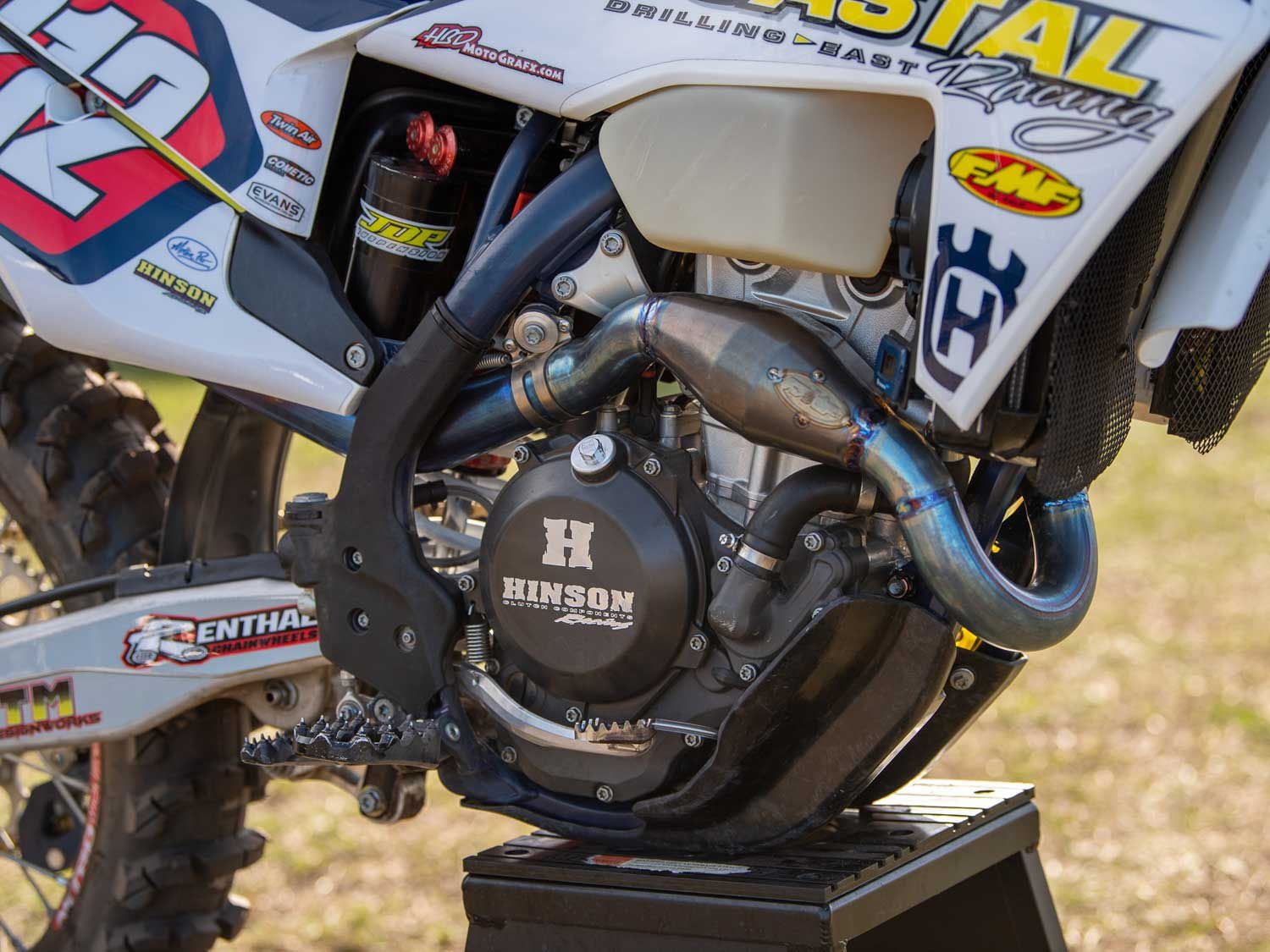 Coastal Racing Husqvarna gets the same FMF exhaust systems as the Rockstar Energy Husqvarna Factory Racing off-road team. (Shan Moore/)
Coastal Racing Husqvarna gets the same FMF exhaust systems as the Rockstar Energy Husqvarna Factory Racing off-road team, so they know they have been extensively tested. The clutch is supplied by Hinson Racing including the pressure plate and hub, while the plates are OEM. The radiators are also stock, but Mundy installs a fan on the right side, which is available in the Husqvarna Technical Accessories catalog.
The throttle housing is a billet item and a Husqvarna part. However, the throttle tube is from G2. A TM Designworks chain guide and sliders are employed on the midsize four-stroke as well as a Twin Air filter. Mundy went on to talk about how he sets up Russell's bike.
"We put a step in the seat, a high step for him," Mundy said. "He likes it mainly for the starts and some corners to kind of have a good setback area. He also likes the flex feel in XC Gear Mako 360 bars mounts. He prefers hand guards over the bark busters, so we run the hand guards as well."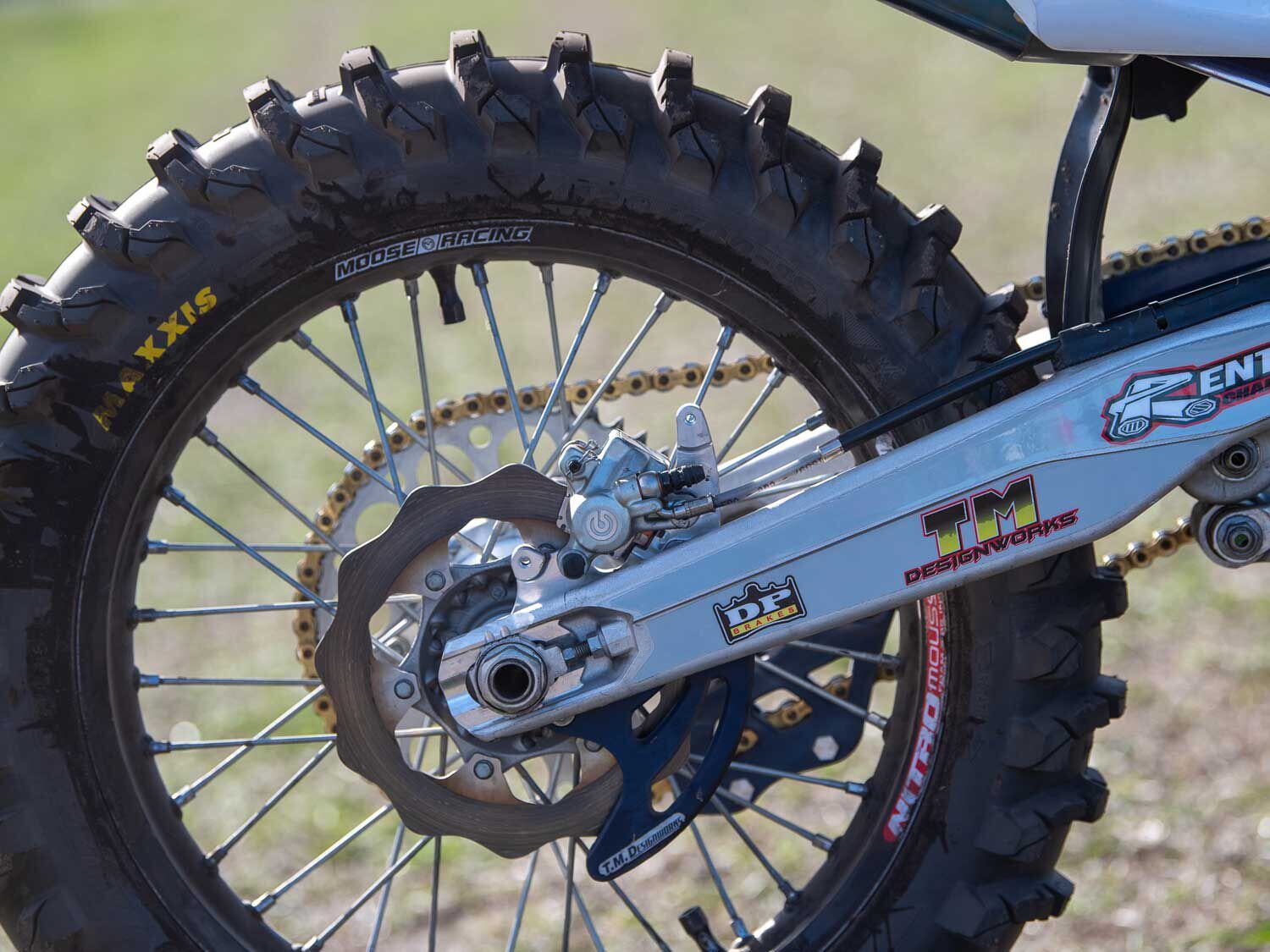 The brake calipers are stock and the rotors are the standard sizes, but are solid units. (Shan Moore/)
The brake calipers are stock, and the rotors are the same diameter as standard but are solid units. Renthal sprockets get the nod front and rear. For gearing, Mundy noted that Russell runs a 14-tooth countershaft and a 50-tooth on the rear. Coastal Racing is sponsored by Maxxis tires and for the Wild Boar GNCC, Russell ran a Maxxcross MX-ST up front and a Maxxcross SM sand tire on the rear. Mundy concluded by commenting on Russell's use of Ankle Saver footpegs.
"He's been running them for a while," Mundy said of the pegs. "I think he just likes the feel of [them]. When he does lean a little off the back he's got a little bit of support there."
Another personal preference item for Russell are the Ankle Saver footpegs, which he says he uses quite a bit while riding. (Shan Moore/)
Read More HERE...