Joined

Oct 27, 2014
Messages

2,948
Reaction score

0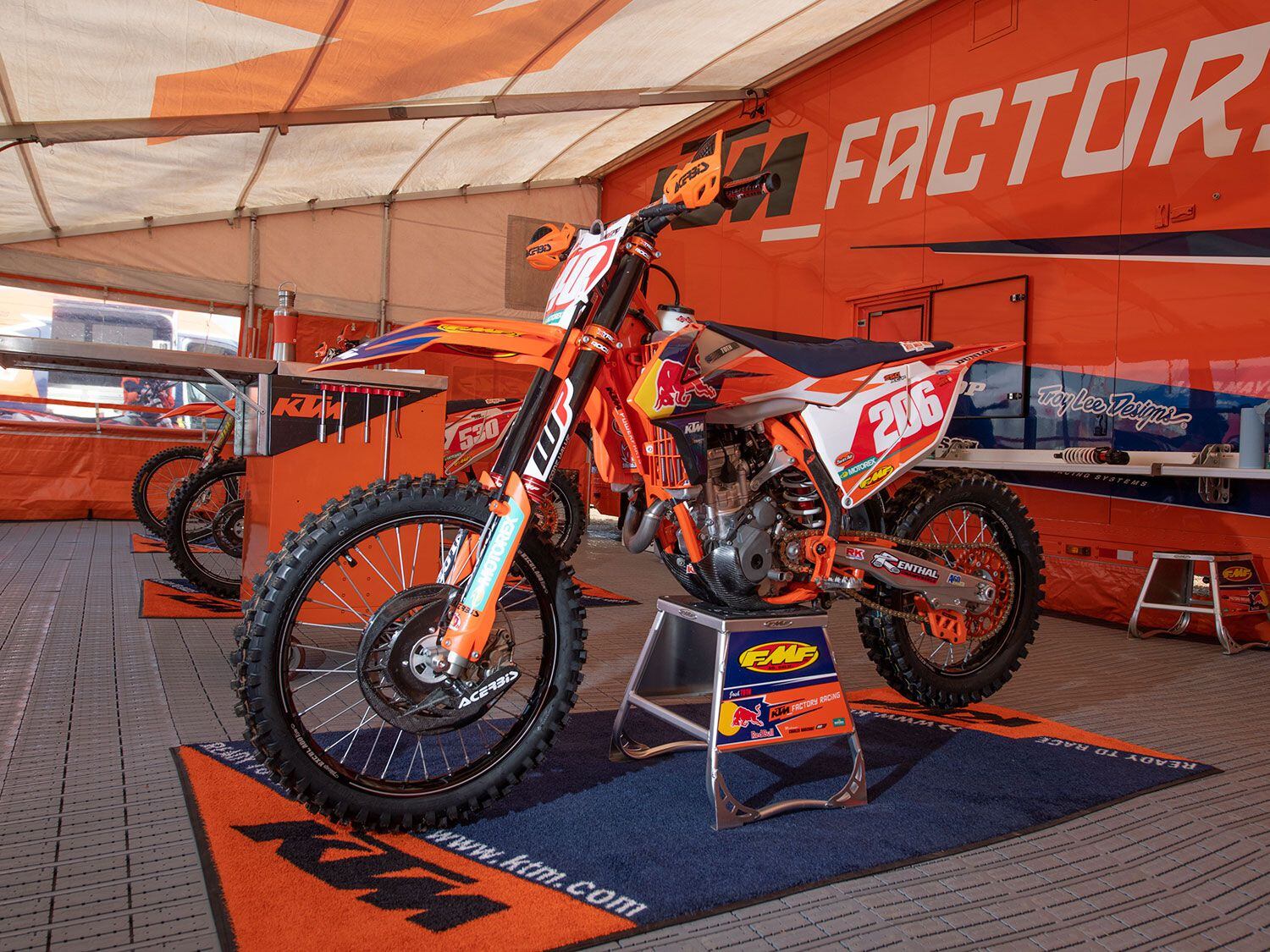 The FMF KTM Factory Racing rig carries enough spare parts to build two complete bikes for each of the team's three factory riders. (Shan Moore/)
Plenty is written about the riders who compete and win races, but little is mentioned about the heroes behind the scenes who spin the wrenches that keep the bikes going and the wheels turning. At the recent
Wild Boar GNCC
in Palatka, Florida, FMF
KTM Factory Racing
team mechanic Charles Marchant explained what a typical week is like in the life of a factory off-road race team mechanic, along with details on some of the duties of other members of the team.
Related:
Pro Wrenching Tip—Preparing For Tight Woods Riding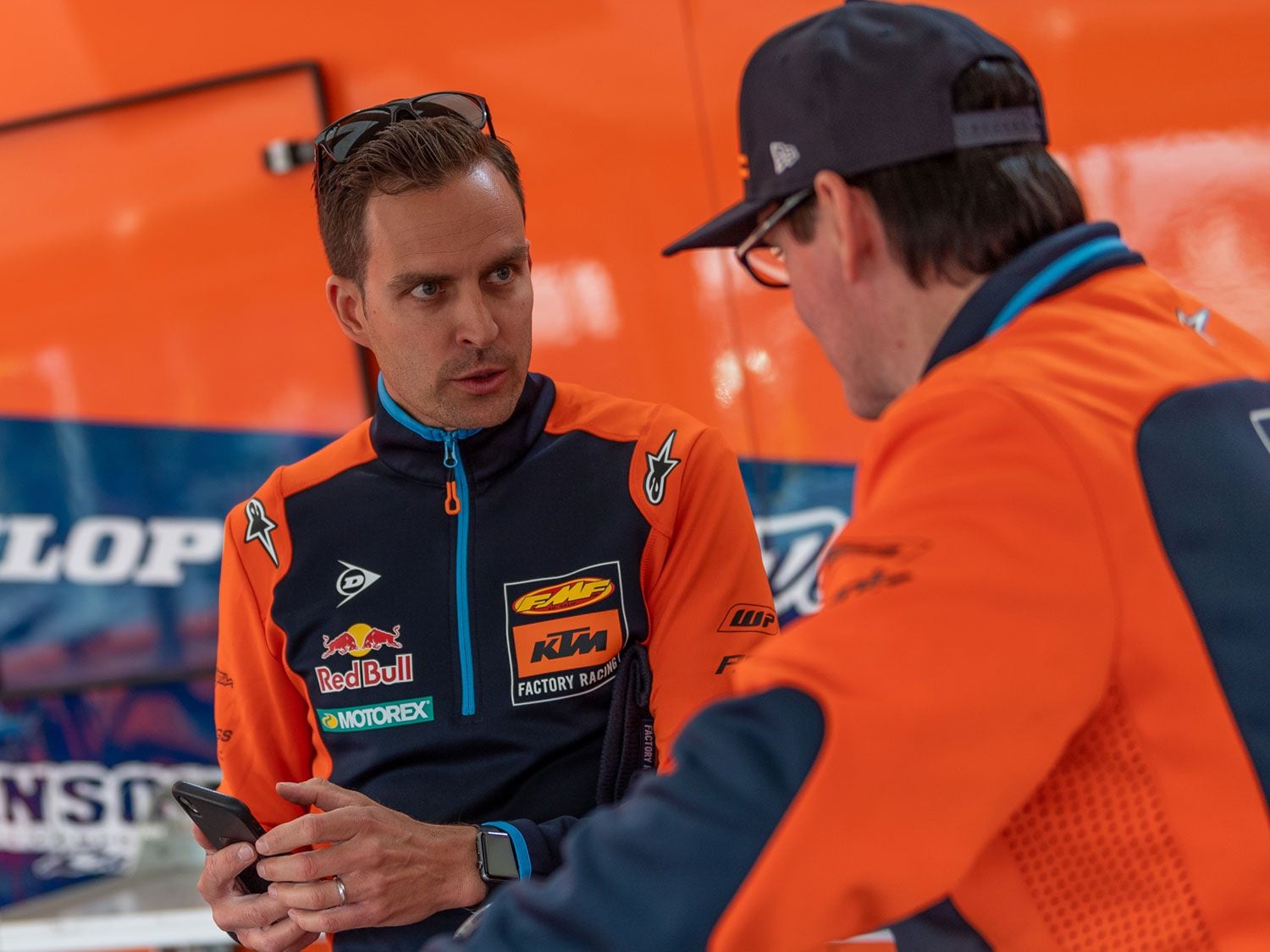 KTM's off-road team manager Antti Kallonen runs a tight ship that is clean and organized. (Shan Moore/)
Like the factory Supercross teams, the bigger GNCC off-road teams operate out of big rigs, or semi trailers, and team manager Antti Kallonen runs a tight ship that is very organized and clean. According to Marchant, the KTM rig carries enough parts to build two spare bikes for each of the team's three riders.
Related:
2020 Factory Off-Road Bikes—Josh Toth's KTM 350 XC-F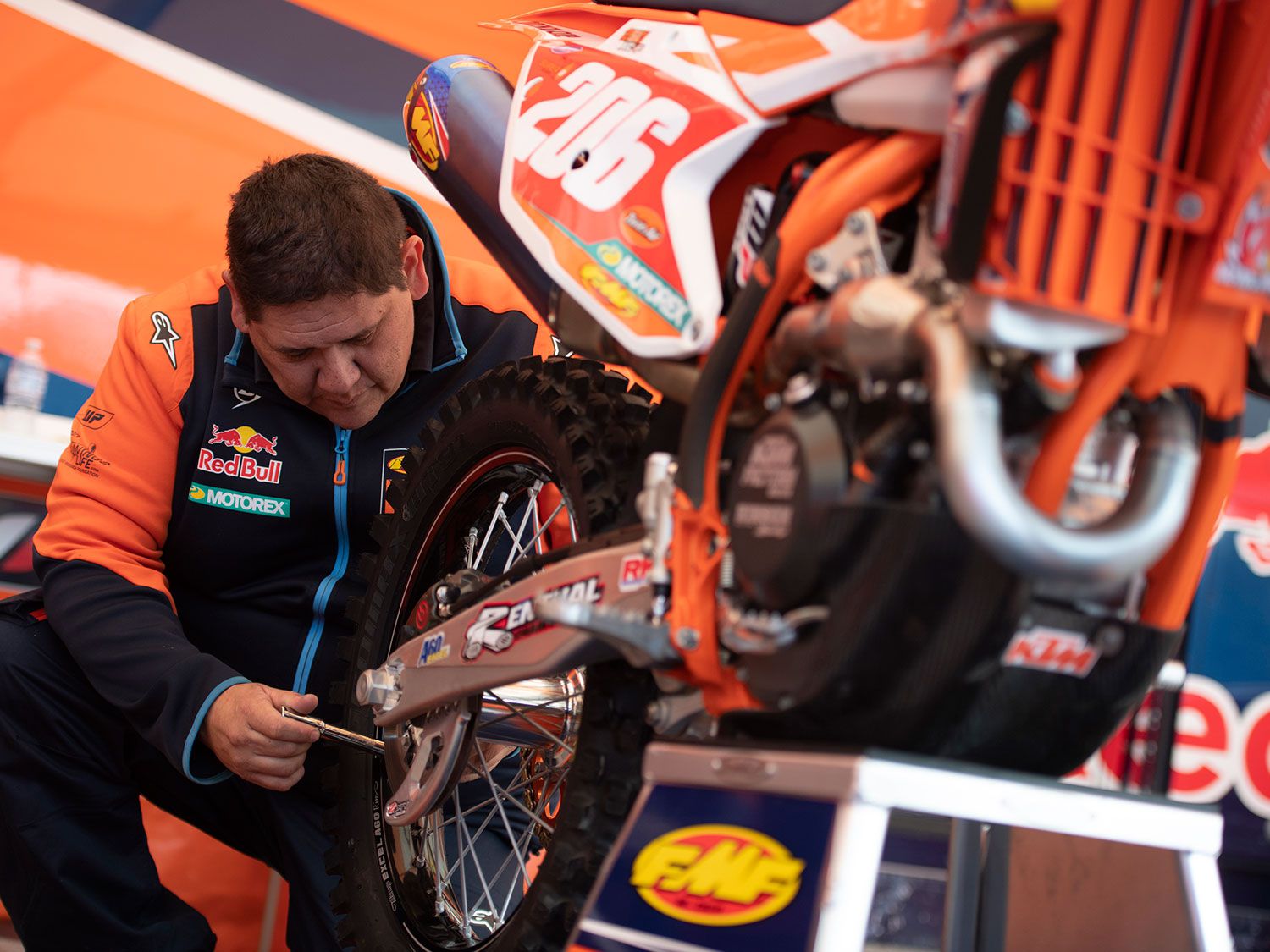 KTM factory mechanic Charles Marchant checks the spokes on Josh Toth's bike before a race. (Shan Moore/)
The GNCC rig stays on the East Coast, near truck driver Brian "Rabbit" Sweet's house in North Carolina. Meanwhile, the mechanics fly back and forth from California—usually to the race on Thursday.
"We're usually first flight out of San Diego and fly wherever the GNCC is," Marchant said. "Then Thursday we get there and we'll drive to the track and, if it's not late, we'll usually inventory the truck really quick and put away our parts that we flew with and kind of get things set up for Friday."
Related:
2019 Factory Off-Road Bikes—Thad Duvall's Husqvarna FX 350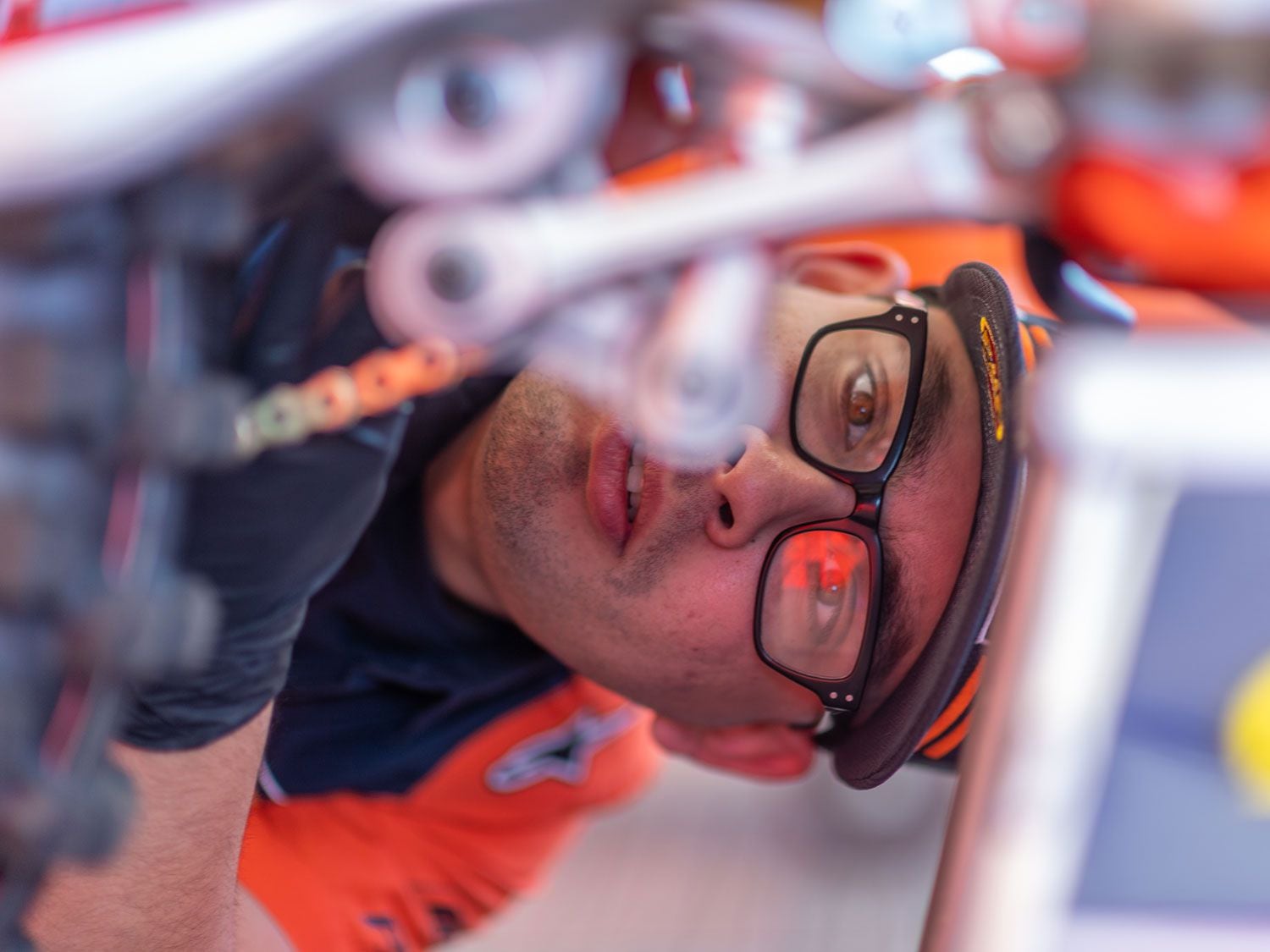 Jose Cordova double-checks the suspension linkage on Ben Kelley's bike. (Shan Moore/)
On Sunday after the race has concluded, Marchant and the other mechanics wash the bikes and begin tearing them down.
"After the race, depending on whether or not you're on the podium, you're going to come back to the rig and strip down the bike without tearing the bike fully apart," Marchant said. "So wash it, get the plastic all the way off of it, clean your fuel tank, pull the skid plate off, and get a decent, thorough wash so you can inspect the bike, inspect your wiring harness, and inspect the frame to make sure that nothing is damaged. Obviously, it depends how the race went for the rider, if they crashed a lot or if they didn't crash at all. Typically, let's say they damage their radiators but they're not leaking. I'm going to make a note of that and when I get back to California, I'm going to prep new radiators.
"That way I fly back with those radiators and I just swap them out. Plastic is new every race for every rider, so that's why generally right after that race, we don't really clean the plastic. We just clean it enough that you can get to the bolts and unbolt the plastic. Typically, that's going to go to the rider for spare plastic for their practice bike on the East Coast or a support rider if they should need it, so we try to make it useful for us. We try to get the life out of the plastic."
Related:
2019 Factory Off-Road Bikes—Kailub Russell's KTM 350 XC-F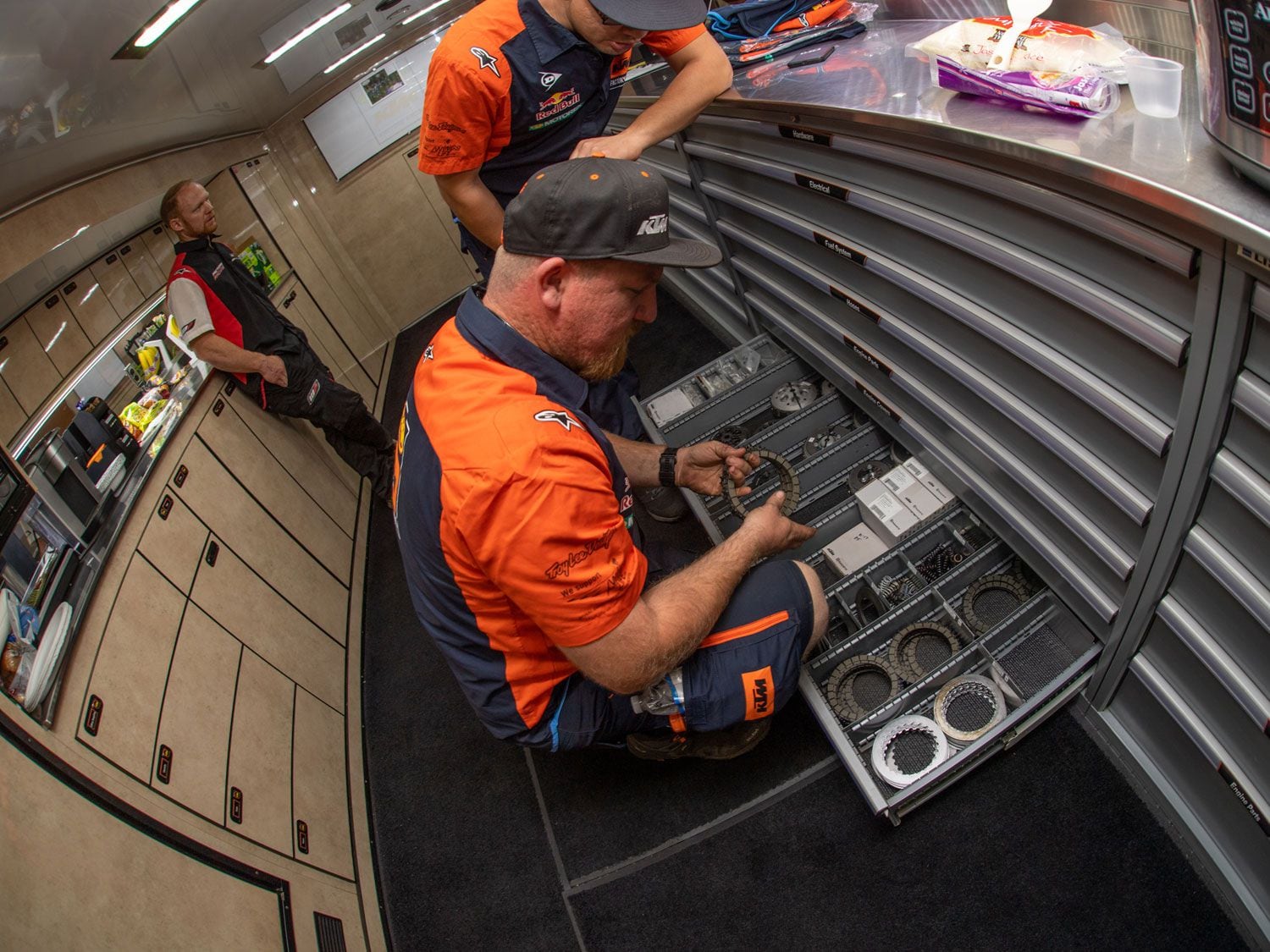 Mike Hall (closest) and Cordova check one of the parts drawers for fasteners. (Shan Moore/)
Marchant told us the team doesn't use titanium bolts since the cost to weight savings doesn't make sense. The bolts for the plastic are not reused, but are discarded or given away after each race. "Typically, I'm not going to keep those bolts," Marchant said. "I'll either let those go in the garbage or I'll keep them in a pocket and I'll give them to whoever needs some spare bolts for themselves."
The race engines can typically go five or six races through a GNCC schedule if they are lucky enough to not have a mud race and overheat the engine, but the team swaps them out more often than that just to be safe.
"Our rotation schedule is three GNCCs if the engine hasn't been overheated," Marchant said. "So every three GNCCs, we're going to pull the engine and swap out to the next engine. When we do that, we also swap out the entire electrical system as well. So we'll put a new wire harness on it, new electronics, and a lot of the throttle body electronics will be swapped out."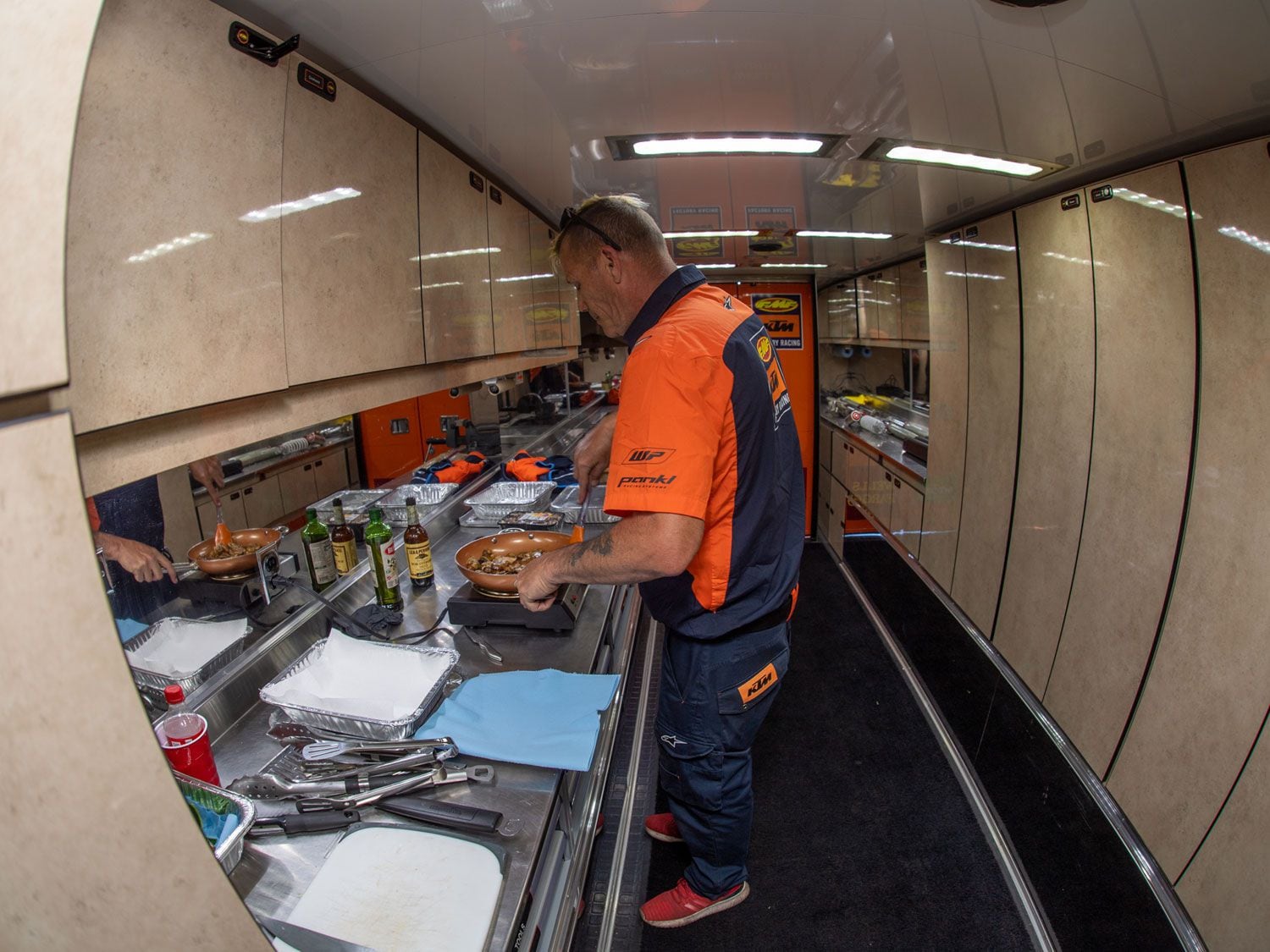 Brian "Rabbit" Sweet prepares a meal on Saturday for the team. (Shan Moore/)
Marchant added that each rider has a complete spare engine sitting in the rig just in case it is needed.
"When it's time to swap an engine, the one we pull out ships back to KTM in California on Monday, so usually that's the job for the truck driver, Brian 'Rabbit' Sweet," Marchant said. "He'll drop them off at UPS and they get shipped back to California. Then crew chief and engine man Tony Hall will go through those engines and ship them back to us before the next GNCC."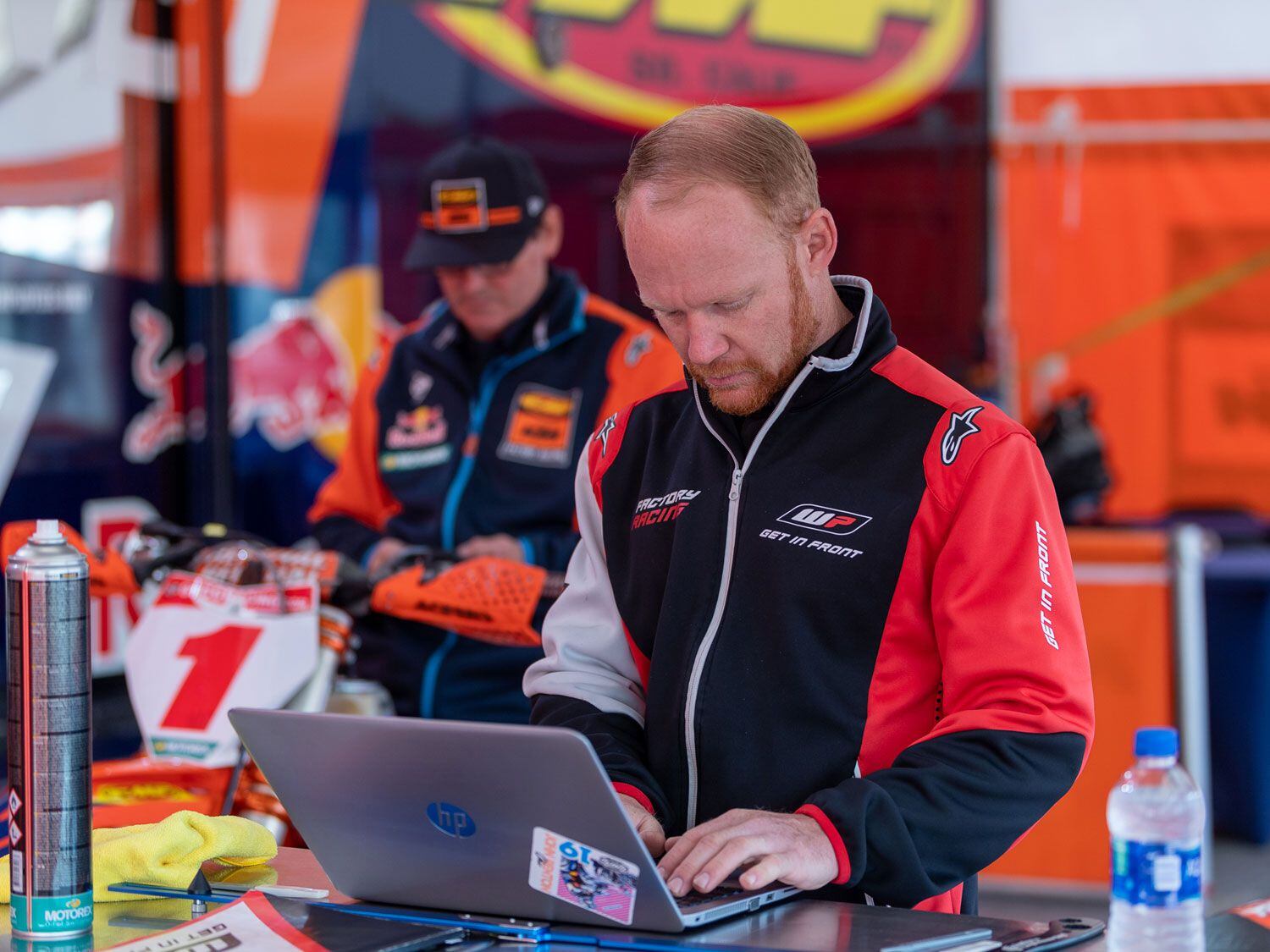 Suspension guru Leon Hansen goes over notes while working on Kailub Russell's suspension. (Shan Moore/)
The truck driver's duties are not limited to just driving the truck. Obviously, Sweet has plenty of other duties throughout the week and on race day.
"Brian drives the rig to the races," Marchant said. "He's going to get there on Wednesday night or Wednesday afternoon. Then on Thursday morning, he will go through and wash the semis and start setting it up and making sure everything is presentable. On Friday, he'll go grocery shopping for the team [and buy] whatever we want. Then on Saturday he's going to help get the truck set up. In the meantime, on Fridays the mechanics are rebuilding the racebikes completely. We fly Thursdays. Fridays we're going to come in and tear our racebikes apart, inspect them, rebuild them, and get them race ready for Sunday. So Brian goes shopping for groceries and supplies; he's also going to cook dinner for us on Friday night. Then on Saturday, Brian will help out with the micro race, if there is [one], and hand out podium hats for the kids. Then he's also going to come back and prep food and salads. Then Saturday afternoon we have our team dinner, which is usually with everybody. They're usually cooking steak, chicken, sweet potatoes—kind of a whole gamut of food.
"After the GNCC on Sunday night, we get the truck loaded up. The goal is always to be loaded up and [have the] doors closed by 7:00. Then we drive to the airport hotel—wherever that may be—stay the night at the hotel, then Monday morning we're the first flight out heading back to California."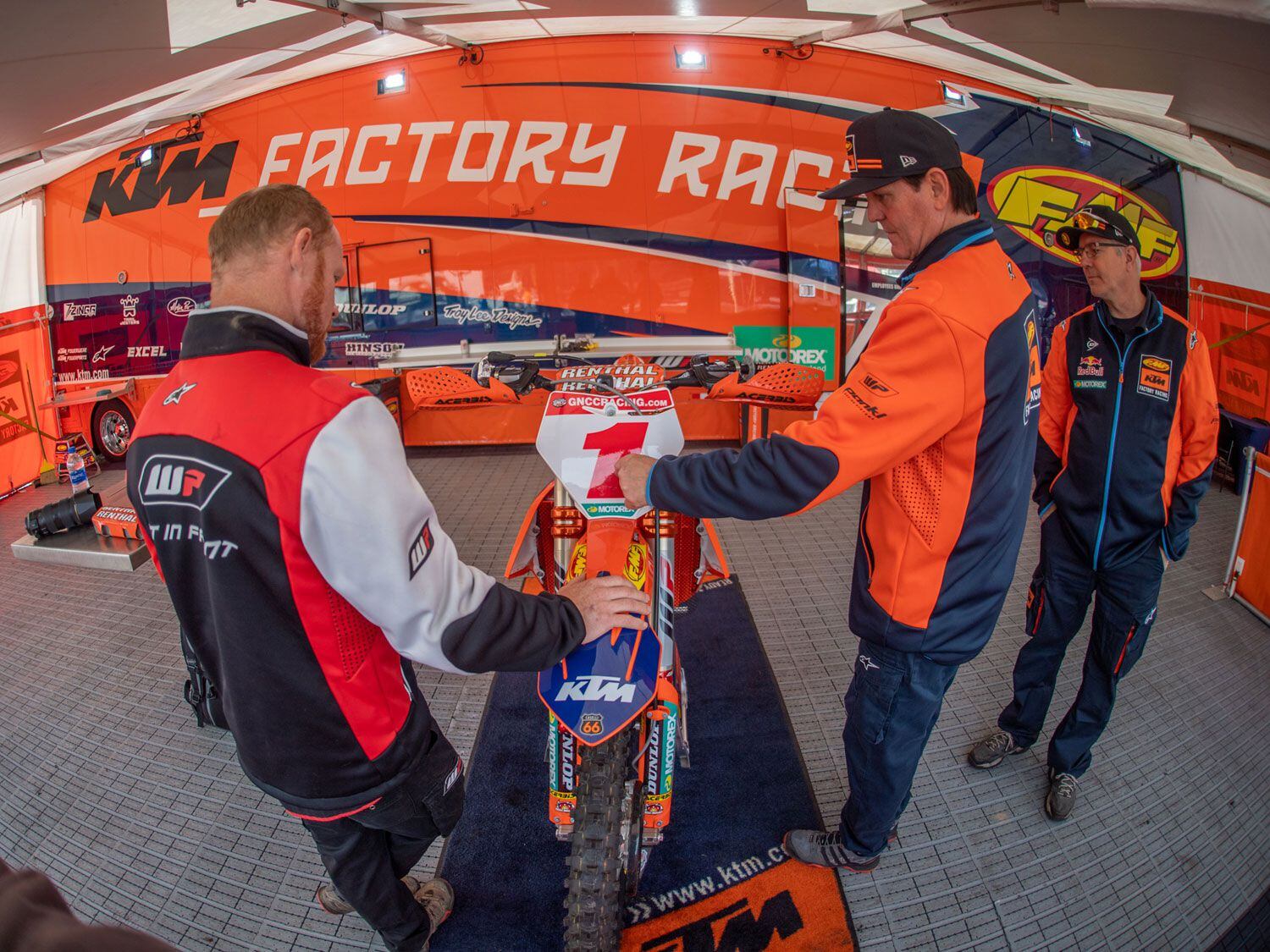 Russell's mechanic John Mitcheff (center) makes last-minute preparations on the reigning GNCC champ's bike before the Wild Boar race in Palatka, Florida. (Shan Moore/)
The mechanics get home to California on Monday night. Then on Tuesday, it's back to work at the shop in Murrieta prepping parts for the next race.
"So we'll work Tuesday, take Wednesday off, and fly Thursday or Friday to the next race," Marchant said. "If you don't have the next back-to-back weekend, you'll work the rest of the week in the shop getting everything prepped."
Marchant told us the team has a maintenance schedule that determines when parts get changed out, but the components are mainly visually inspected to make sure there is no unnecessary wear or damage.
"It's going to be an inspect and replace when they need it for the most part," Marchant said. "We're pretty fortunate with our three guys, between Ben [Kelley], Josh [Toth], and Kailub [Russell], that they're not hard on clutches. Kailub and Josh can probably go three races easy on a clutch. They don't abuse them. We're still kind of figuring Ben out because he's new to the 450 and he's a bigger guy, so we haven't had a lot of time with him, but he's not that abusive on the bike."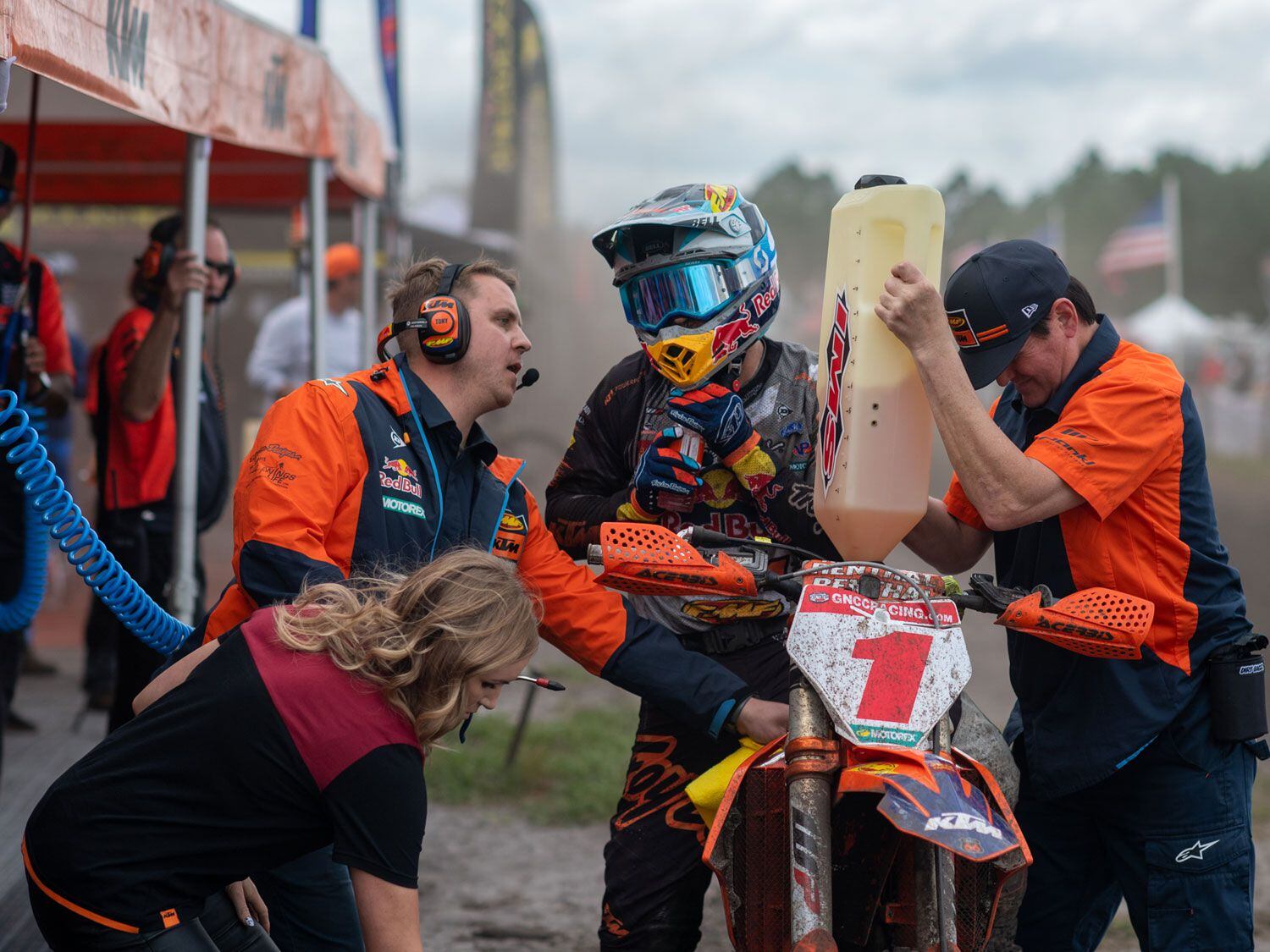 Crew chief Tony Hall talks to Russell during a gas stop while Mitcheff refuels the bike. Russell's wife, Chandler, is there to provide new goggles. (Shan Moore/)
Once the race begins, the mechanics each have specific roles at a GNCC.
"So that's going to kind of vary on the course," Marchant elaborated. "Typically, though, we're all three going to be chasing our individual rider during the race. We all have headsets on so we can still communicate with each other. When team manager Antti Kallonen is at the races, he'll float. He just kind of floats around to see where the riders might be taking a bad line, just kind of helping out a little bit there, but he's mostly at the semi truck. When a rider comes in for fueling, we're all going to handle our own individual rider. Then typically that's where Rabbit comes in. He's at the semi the whole time and he's going to jump in and help out with miscellaneous help, whether we need to pressure wash radiators or put the fuel cap back on, hand the rider a drink bottle, or something like that."
KTM has a WP suspension technician at each race. There are two of them—Leon Hansen and Jordan Sylvia—and they rotate going to different rounds. According to Marchant, the suspension is rotated every two races and Hansen and Sylvia fly with suspension for each event.
"We will fly back and forth with suspension, and then the suspension guys go through it in California at the race shop so that they can verify that everything's right," Marchant explained. "They dyno it and make sure the settings haven't moved on the dyno."
Most of KTM's testing is done in the preseason, but sometimes they test during the season if a rider feels he needs a change, or occasionally when the schedule takes them to vastly different terrain such as the rocky Rattlesnake National Enduro.
"Sometimes Kailub will test [during the season], but this year a lot of the testing that we've done preseason has actually been working out pretty well for him," Marchant said. "Unfortunately for Josh or Ben, they're not racing, but for Kailub it seems that he hasn't really requested another test date, so he's really happy with his preseason testing and everything. So it just kind of depends throughout the year if they feel like they need the change. Then we'll kind of make a schedule change and usually come out before the next race or stay after a race [to test]."
Read More HERE...