Joined

Oct 27, 2014
Messages

2,948
Reaction score

0
Drop-offs are a common sight at hard enduro races like the Red Bull Override. At the first running of the event at Rocky Ridge Ranch in Decatur, Texas, this past December, we captured a sequence of
Max Gerston
negotiating one particularly tricky drop-off. Afterward, we spoke with
Beta USA's
extreme enduro specialist to gain some insight into how he tackles them.
"First off, you've got a four- or five-foot straight-down ledge,"
Gerston
said. "What makes this drop unique, special, and different from other four- to five-foot drops [is that] we don't have a runout. Usually a four- to five-foot drop is not very hard if you're in second, third, fourth, or fifth gear. You can hit that thing as fast as you want and keep moving. If you have runout, it's no big deal. It's a nice, soft landing. What makes this one tricky is it's like a waterfall and it has no runout, because you encounter a jumbled-up mess of rocks right after you land. You can't hit it with any speed because, as you can see in picture five, there's just a bunch of rocks and stuff, and you can't really just jump into that stuff, so that's really the key. That's the whole thing about this drop and what makes it tricky."
Related:
Pro Riding Tip—Climbing Hills With Evan Smith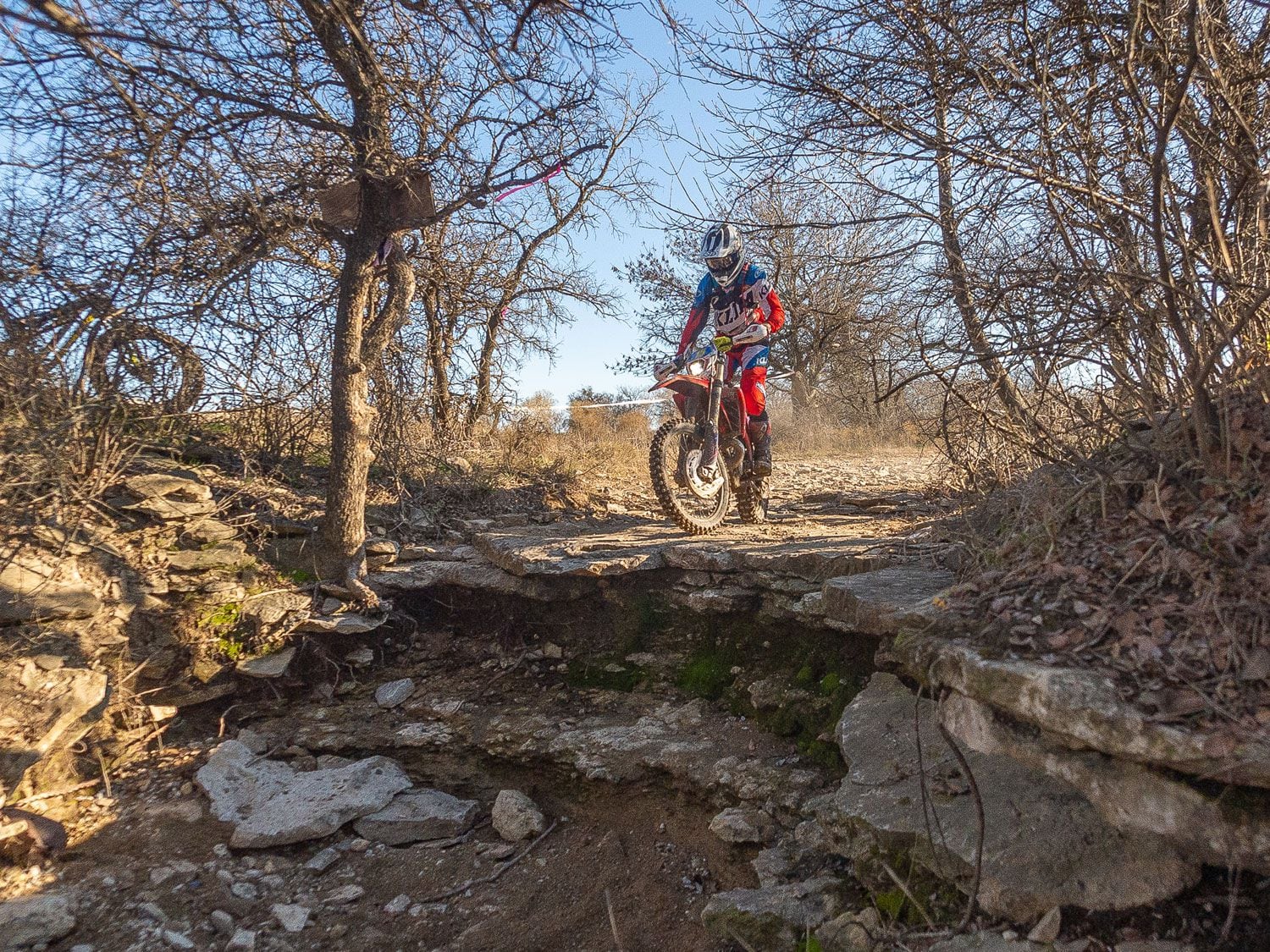 Beta USA's Max Gerston approaches a ledge at the 2019 Red Bull Override hard enduro race in Decatur, Texas. Because this drop-off has very little runout, he's using first or second gear for it. (Shan Moore/)
"So in frame one, I roll up to the ledge. You can see because of the way my bars are turned that I'm going pretty slow and I'm lining up my line. I'm in first or second gear here. My plan is to basically pop my front end up kind of high coming off the lip of the drop, and then transfer my weight back as my rear tire leaves the ledge. You want to set it down nice and gentle on that flat spot, so I'm eyeing it up [and] looking at the drop [with my] feet on the pegs. My right foot is on the rear brake pedal ready to hit the brakes and I have the clutch in. [I'm in] first or second gear. Then I start my approach."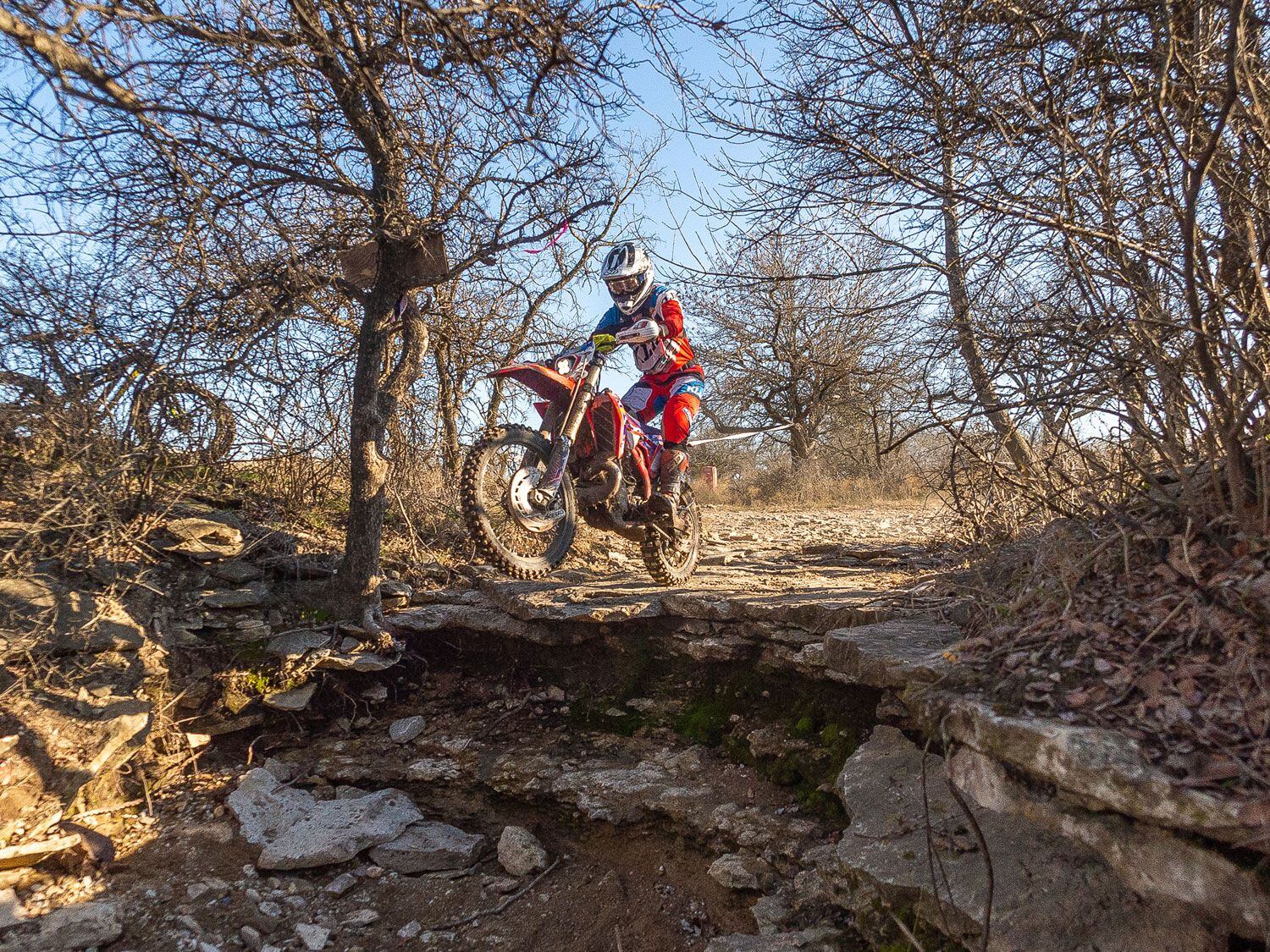 Spot your landing and pop the clutch in order to lift the front end off the ledge. (Shan Moore/)
"In frame two, I roll up to the edge and this is where the magic happens. I've already spotted my landing and see where I want to land. It goes back to the old saying, 'Aim small, miss small.' So when you look for your landing spot, don't just say, 'I want to land down there.' Have a specific goal as to exactly where you want to land. So I come up to the ledge [and] I pop the clutch nice and easy—nothing too aggressive. I basically just roll off the ledge. When I pop the clutch here, you can't even consider it a pop. It's more of just like a very smooth, very subtle release of the clutch."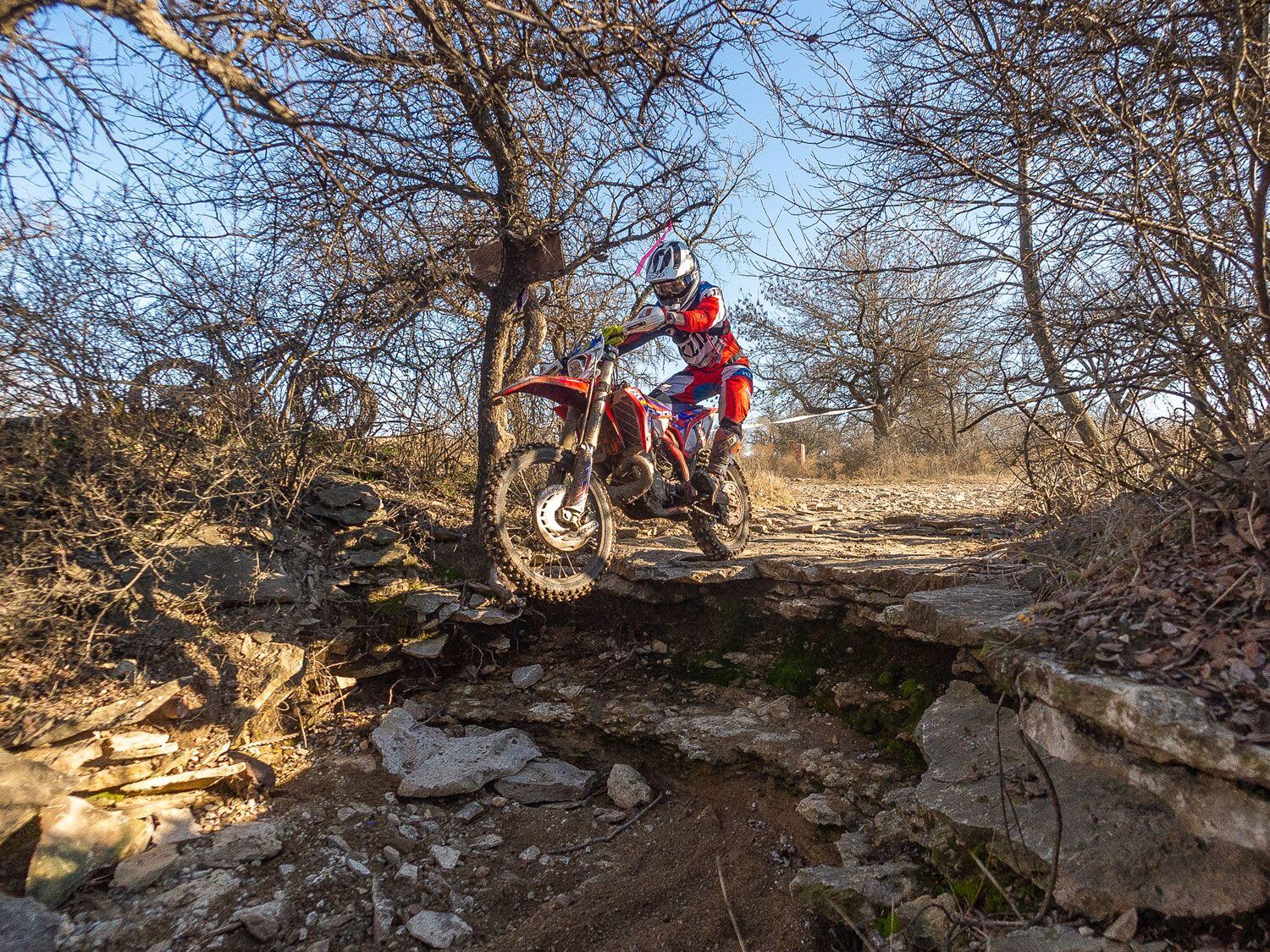 Transferring your weight back is essential to prevent the front end from diving. (Shan Moore/)
"Moving onto frame three, you can see as soon as the swingarm pivot passes the edge of the ledge, that's when I start moving my way back. It's that weight transfer that's going to keep the front end from diving and sending me over the handlebars. A lot of pull on the bars and a lot of weight back. All the motor movements are very soft [and] very non-aggressive. I'm basically just coasting off the edge. I'm not powered; my motor shouldn't be under power. Just very, very little power."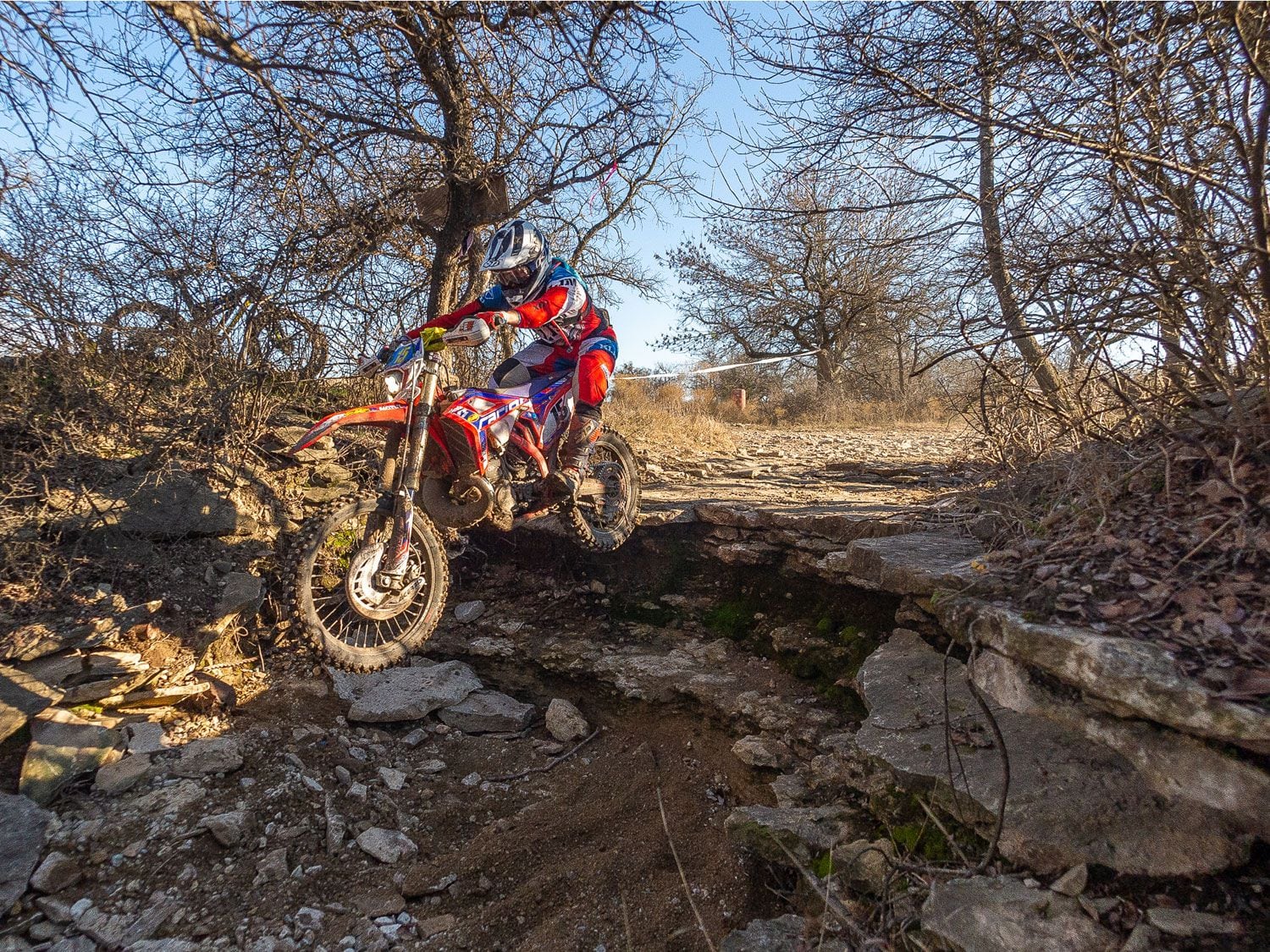 Prepare for landing by keeping your weight back and having your right foot positioned so that you are able to use the rear brake at a moment's notice. (Shan Moore/)
"In frame four, I'm preparing for my landing. This is where things get a little bit cooler. Now that I'm off the ledge and I see where I'm going to land, I actually move my finger to the front brake and I actually feather the front brake as I land. So I'm basically just along for the ride at this point. I still have my weight back. My landing is spotted. At this point I'm committed and wherever I land is where I land because I can't control it very much from there. I'm still leaning back very, very far as you can see. My right foot should have the ability to get to the rear brake."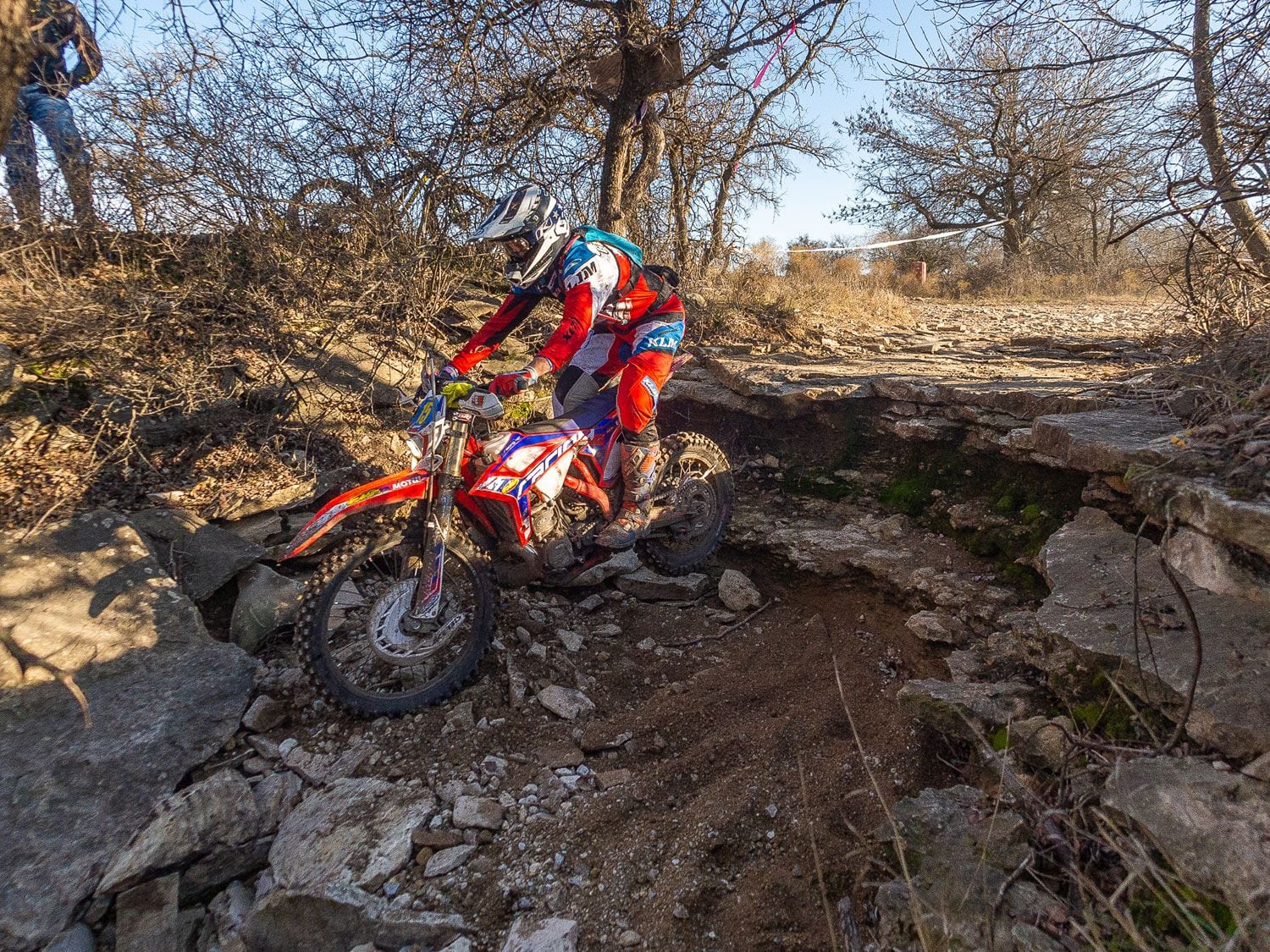 Upon landing, Gerston applies a minimal amount of front brake to soften the impact and prevent him from carrying too much momentum into the upcoming rocks. (Shan Moore/)
"In frame five, now I'm coming in for the landing, I actually landed here with a little bit of front brake. That is for two reasons. One is to keep me from running into the rocks, [and the other is that] it also actually helps soften the landing. It doesn't work like that in all situations, but it's almost like there are eggshells under the bike and I'm trying to set it down as easy as I can, so I'm trying to ease it down. Just a little bit of front brake, holding the clutch just a little bit. I'll land with the rear brake on just to kind of soften it up a little bit more. At this point, I'm actually looking ahead to the next obstacle. So all the work and all the technique is done on this ledge and my mind is 20 feet down the trail doing the next thing."
Read More HERE...