Joined

Oct 27, 2014
Messages

2,948
Reaction score

0
Choosing a dirt bike helmet
is a decision that should not be taken lightly as it's one of the most important purchases a rider will make in terms of protective gear. The certifications, shell material, EPS, shape, venting, and peripheral vision are all factors to consider when buying a dirt bike helmet. In this list, we take a look at some of the top manufacturer's high-end helmet offerings (in no particular order), ranging in prices from $499.95 to $749.95.
Shoei VFX-EVO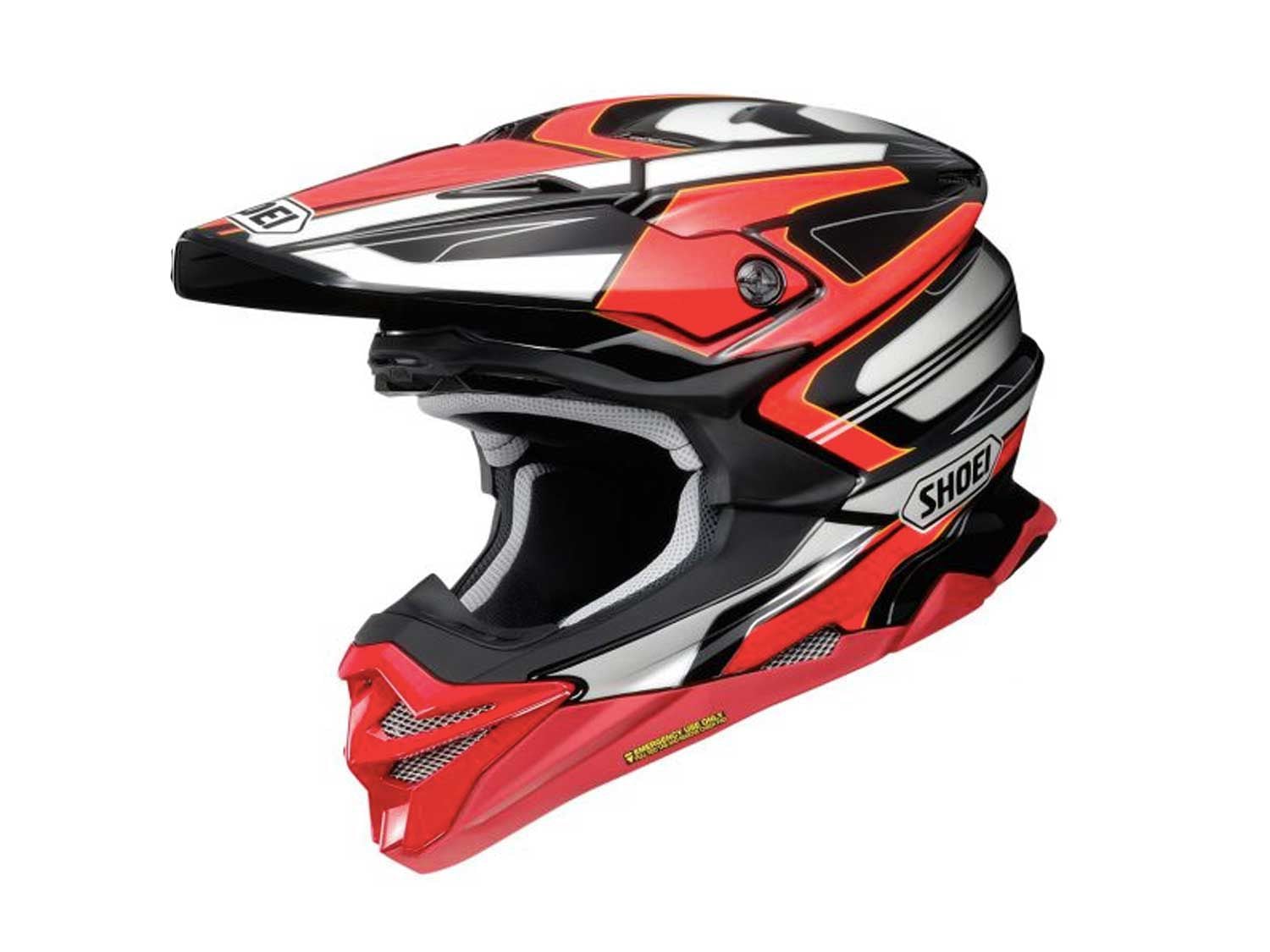 The Shoei VFX-EVO features Motion Energy Distribution System (M.E.D.S.) and is offered in 12 different colorways. The most expensive is the Brayton TC-1 (pictured) at $699. (Courtesy of Shoei/)
The Shoei VFX-EVO
was introduced in December 2017 and replaced the long-standing VFX-W as the Japanese helmet manufacturer's top-of-the-line (and only) motocross/off-road helmet. The VFX-EVO features M.E.D.S., which stands for Motion Energy Distribution System. According to Shoei, M.E.D.S. is designed to reduce rotational acceleration energy to the head in the event of an accident. In addition to its eye-catching appearance, the VFX-EVO is one of the most comfortable
dirt bike helmets
on the market.
Shoei VFX-EVO MSRP: $529 (solid colors), $679–$699 (graphic designs)
Related:
Shoei Helmets At The 2018 EnduroCross Ride Day Video
Arai VX-Pro4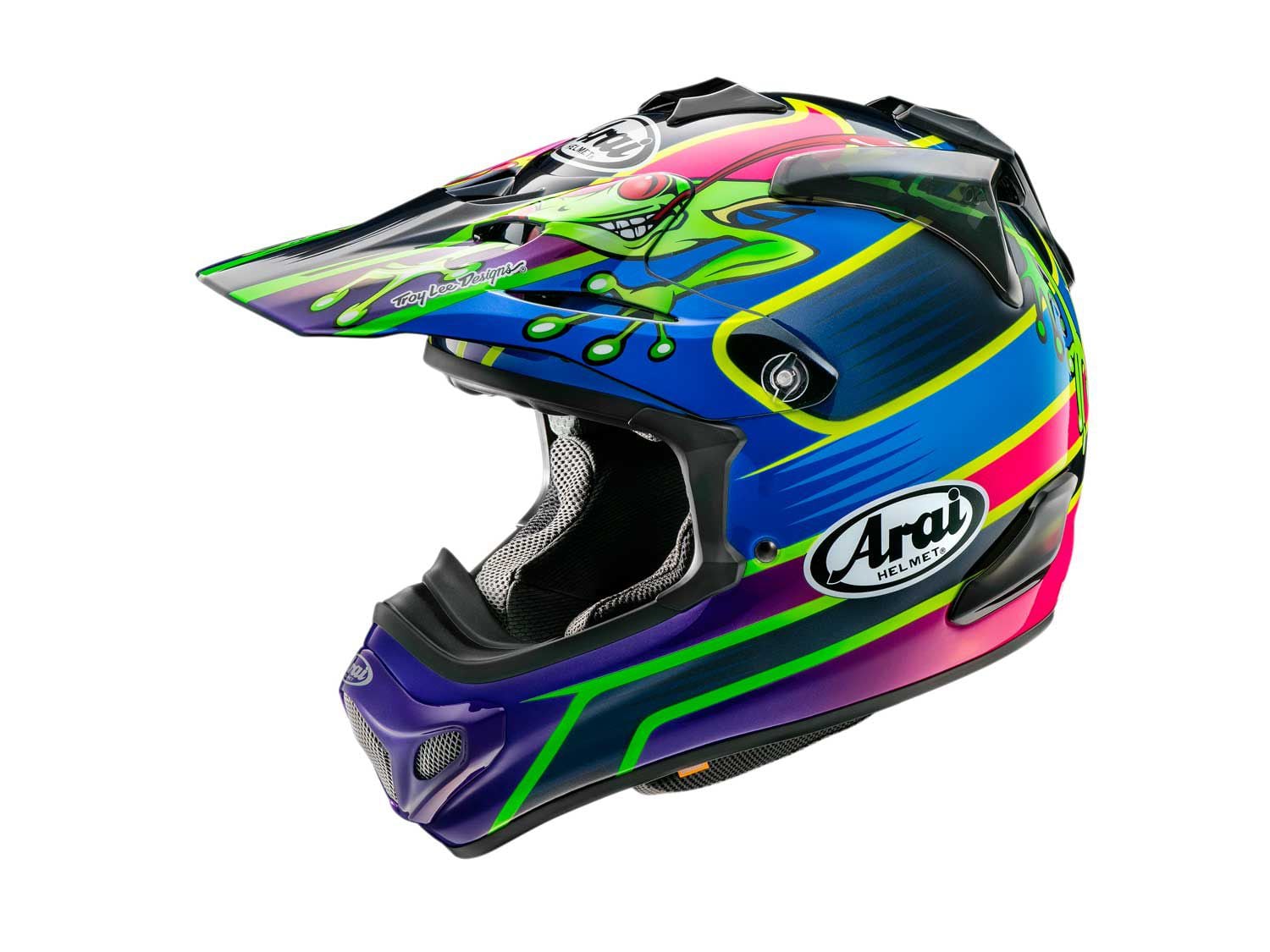 Arai makes a few different pro rider replica versions of its VX-Pro4 helmet, one of which is the Barcia-3 (pictured). (Courtesy of Arai/)
Arai began producing helmets in the early 1950s. Approximately half a century later,
the VX-Pro4
hit the market in July 2014 and replaced the VX-Pro3 as the Japanese company's flagship
motocross/off-road
helmet. Arai believes that while absorbing impact energy is important, avoiding or minimizing impact energy from getting inside the helmet is where more performance can be found. Because of this, the VX-Pro4, and all of Arai's helmets for that matter, are egg-shaped. Arai claims the round and smooth shape of its helmets helps them to be able to "glance off" objects. According to Arai, glancing off is the ability to avoid sending energy directly into the helmet and instead disperse as much of it as possible without stopping or snagging on an obstacle.
Arai VX-Pro4 MSRP: $609.95 (solid colors), $739.95–$749.95 (graphic designs)
Bell Moto-9 Flex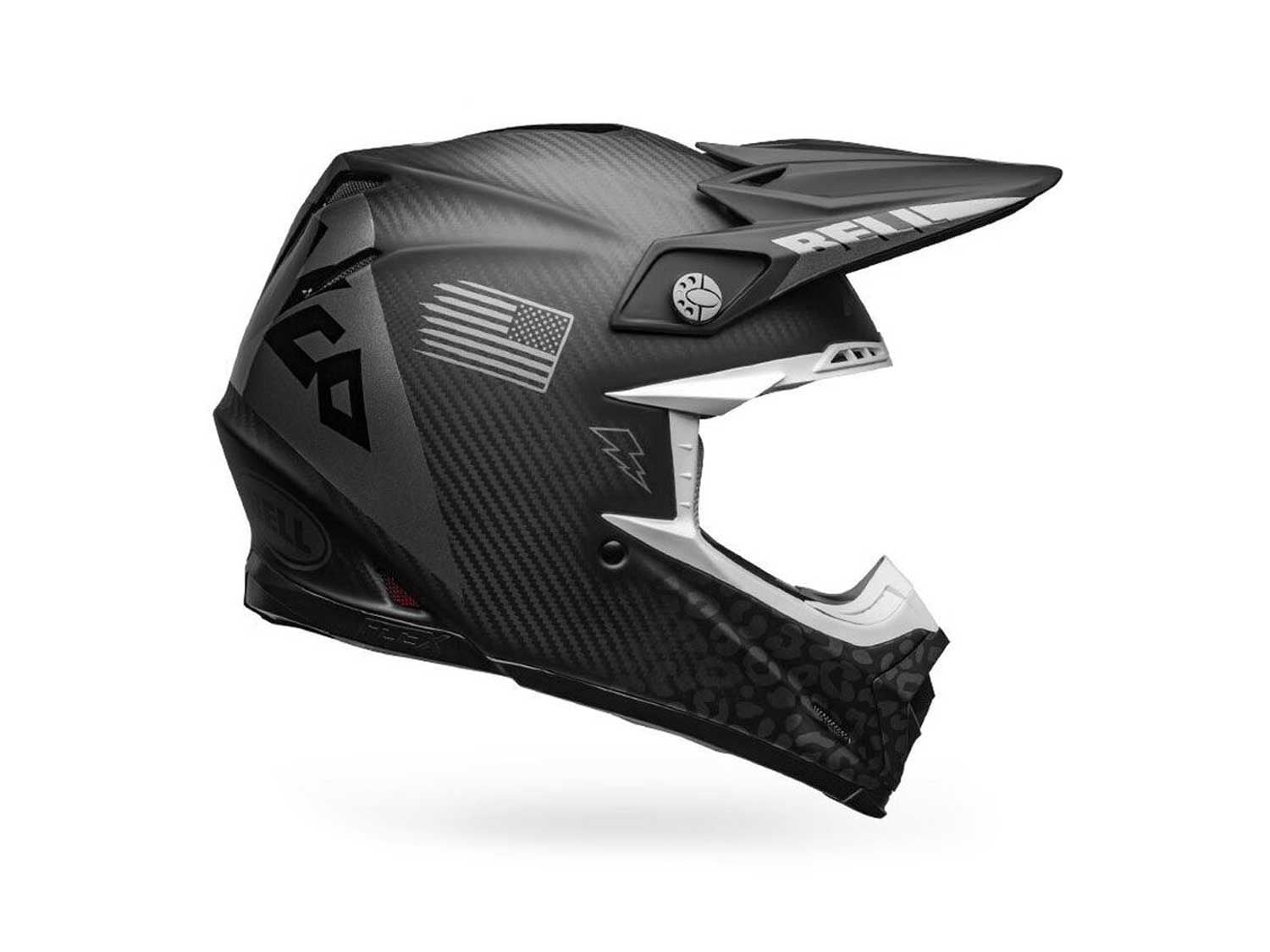 In addition to supporting race teams such as Monster Energy/Star Racing/Yamaha, Bell Helmets also sponsors riders such as Axell Hodges, whose signature Slayco helmet in matte/gloss black/gray (pictured) is currently the highest-priced Moto-9 Flex at $729.95. (Courtesy of Bell/)
Worn by the likes of
Eli Tomac
,
Cooper Webb
, and the entire Monster Energy/Pro Circuit/
Kawasaki
team, the
Bell Moto-9 Flex
utilizes a three-layer impact liner that is designed to more comprehensively disperse impact energy and reduce rotational energy transfer. Also, the flexible, segmented liner is intended to achieve an adaptive, more personalized fit for a wider variety of head shapes, and offer excellent ventilation throughout the helmet.
Bell Moto-9 Flex MSRP: $629.95 (solid white), $649.95–$729.95 (graphic designs)
6D ATR-2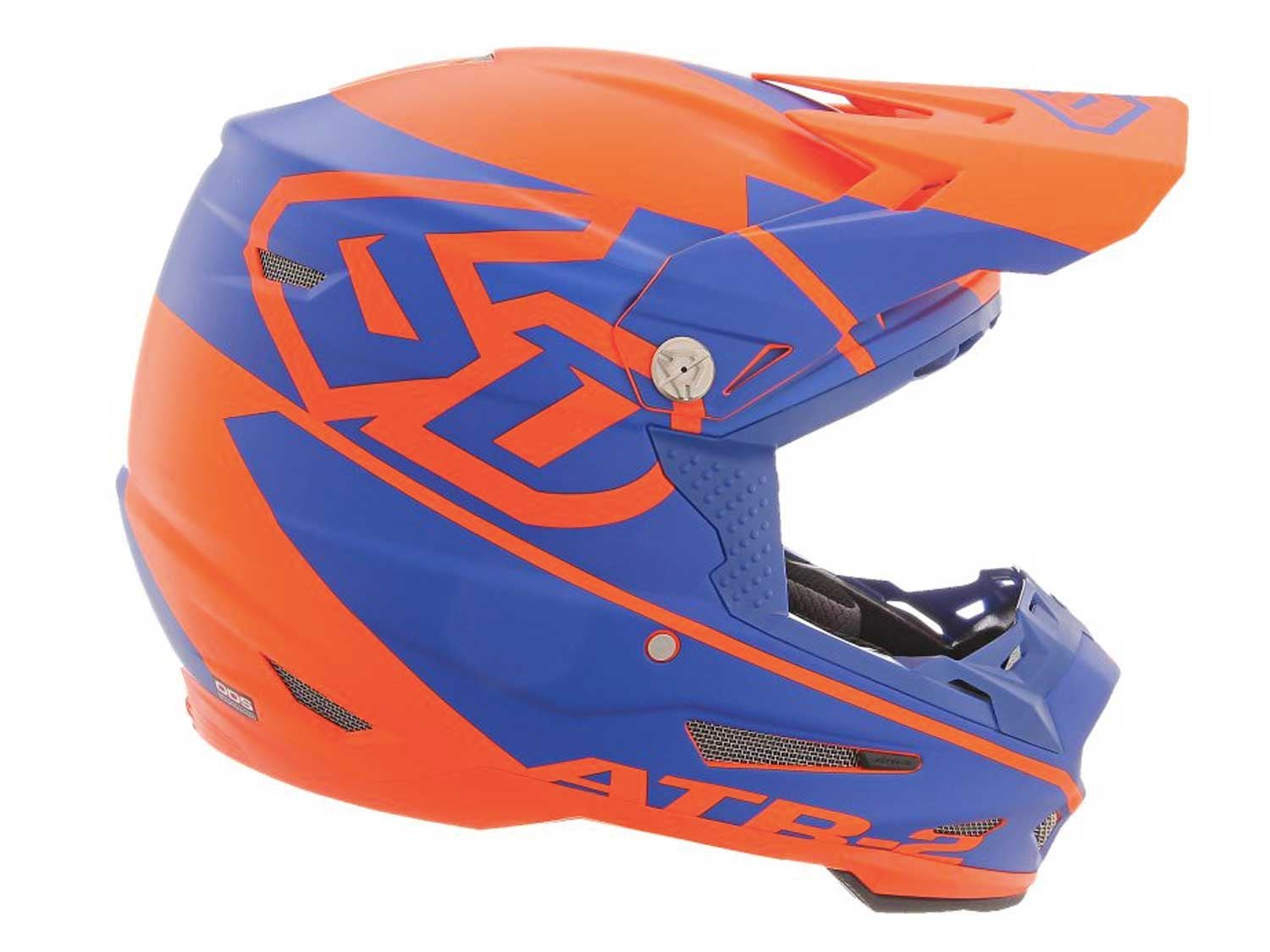 6D Helmets was founded in 2011 by Bob Weber and Robert Reisinger. The name "6D" is a reference to the engineering term, "six degrees of freedom." (Courtesy of 6D/)
First hitting the market in February 2018, the
6D ATR-2
is the Brea, California-based company's top-of-the-line dirt bike helmet. The
ATR-2
features advanced Omni-Directional Suspension (ODS) designed to provide improved performance in both linear and angular acceleration mitigation. Two other notable safety features of the ATR-2 are the "Brow Rib" and "Cervical Protection Zone."
6D ATR-2 MSRP: $524.99–$624.99
Alpinestars Supertech M10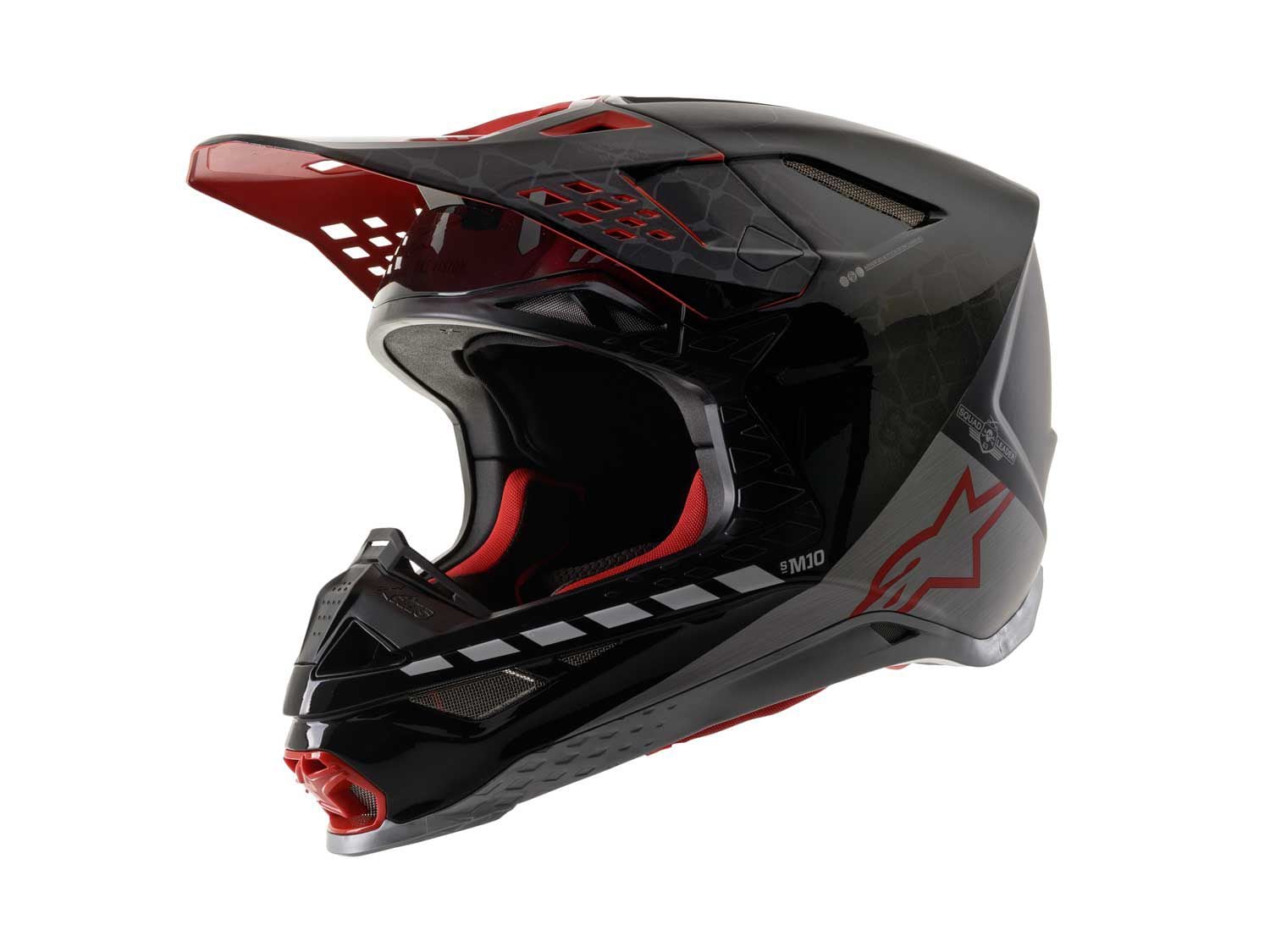 Throughout the Monster Energy AMA Supercross season, Alpinestars releases multiple limited-edition Supertech M10 helmets. For the 2020 San Diego Supercross, the Italian brand went with a black/silver/red matte and glossy color scheme (pictured). (Courtesy of Alpinestars/)
Alpinestars unveiled its first motocross and off-road helmet, the
Supertech M10
, prior to the 2018 Anaheim 1 Supercross press conference. However, the Supertech M10 wouldn't be available for purchase until September 2018. According to Alpinestars, the Supertech M10 helmet is the result of more than five years of intensive study, development, and testing. It utilizes two patented systems—the A-Head Fitment System and a visor release system that is designed to allow the visor to release in a crash with the correct predetermined amount of force, regardless of the angle of impact.
Alpinestars Supertech M10 MSRP: $579.95 (solid colors), $649.95 (graphic designs)
Fly Racing Formula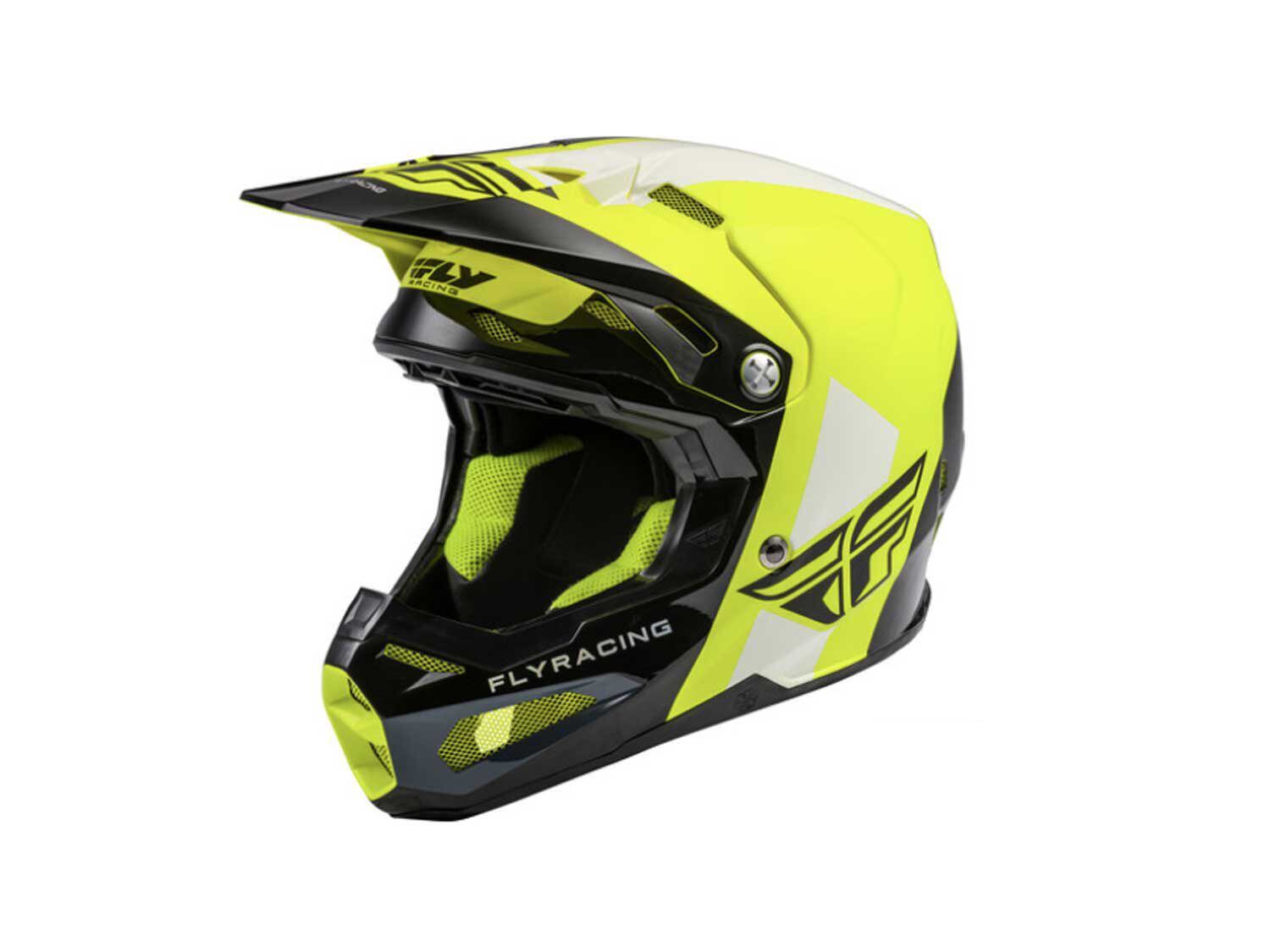 Fly Racing's high-end dirt bike helmet, the Formula, features Impact Energy Cells that are made of Rheon, which is an "active" strain-rate-sensitive material that is designed to efficiently absorb and dissipate energy as it deforms. (Courtesy of Fly Racing/)
Days before the 2019 San Diego Supercross, Fly Racing announced its Formula helmet.
The Formula utilizes Impact Energy Cells
made of Rheon, which are designed to maximize absorption of low-speed linear and rotational impacts, thereby reducing forces transmitted to the brain. Another significant feature in the Formula is Conehead EPS technology, which is intended to absorb and dissipate impact forces more effectively than traditional EPS helmet liners.
Fly Racing Formula MSRP: $649.95
Fox Racing V3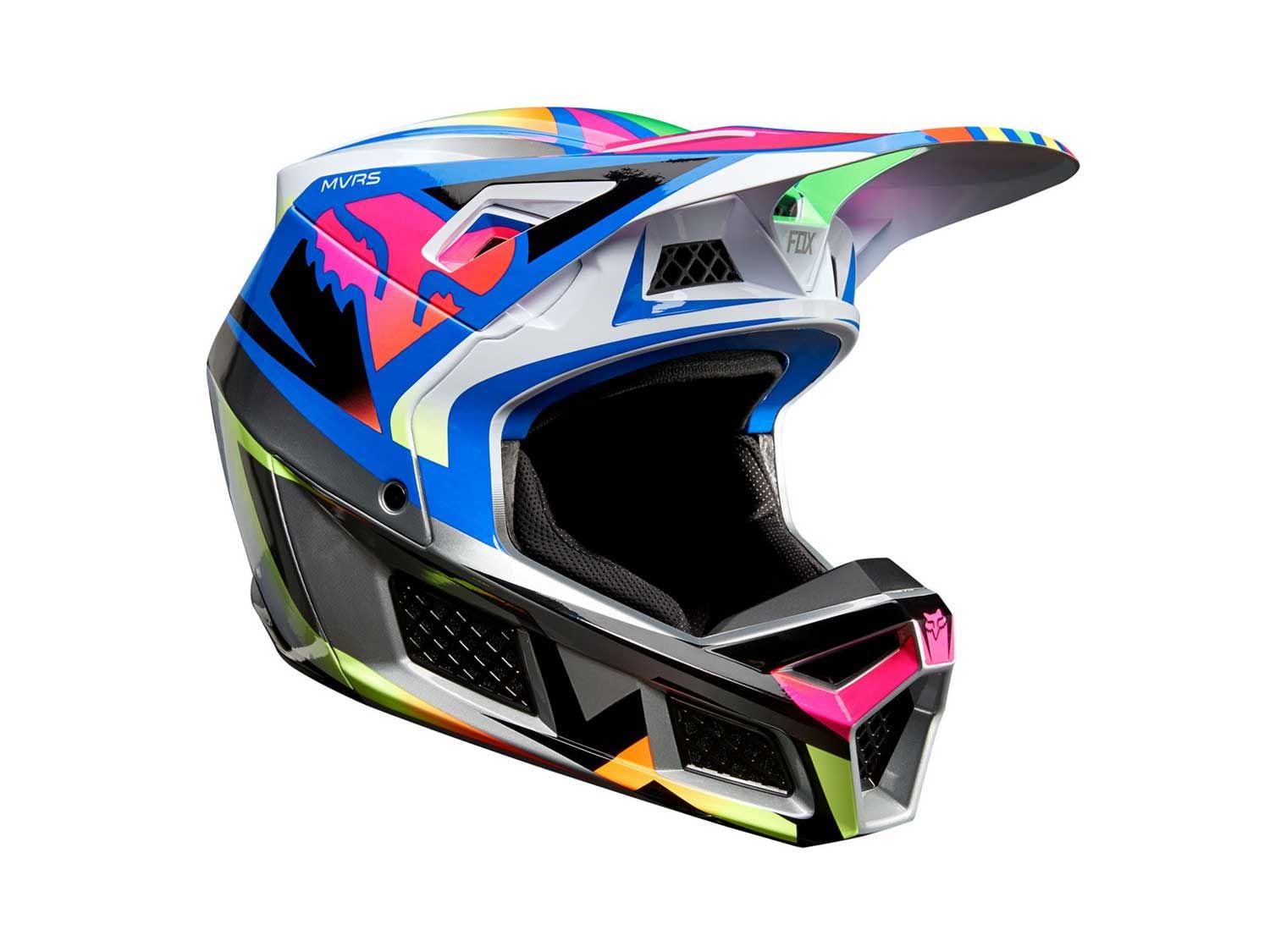 The Fox Racing V3 dirt bike helmet utilizes four shell and EPS sizes. (Courtesy of Fox Racing/)
Well known for its motocross gear, Fox Racing currently produces three motocross/off-road helmets. The Irvine, California-based company's flagship helmet is the
V3
, which utilizes Fluid Inside—a technology designed to help dissipate rotational and linear energy transmitted to the rider's brain in the event of a crash, while its dual-density Varizorb EPS liner is meant to provide improved protection by spreading the forces of impact across a wider surface area. The V3 also features a Magnetic Visor Release System (MVRS), which is intended to allow the visor to detach during a crash.
Fox Racing V3 MSRP: $499.95–$549.95
Troy Lee Designs SE4 Carbon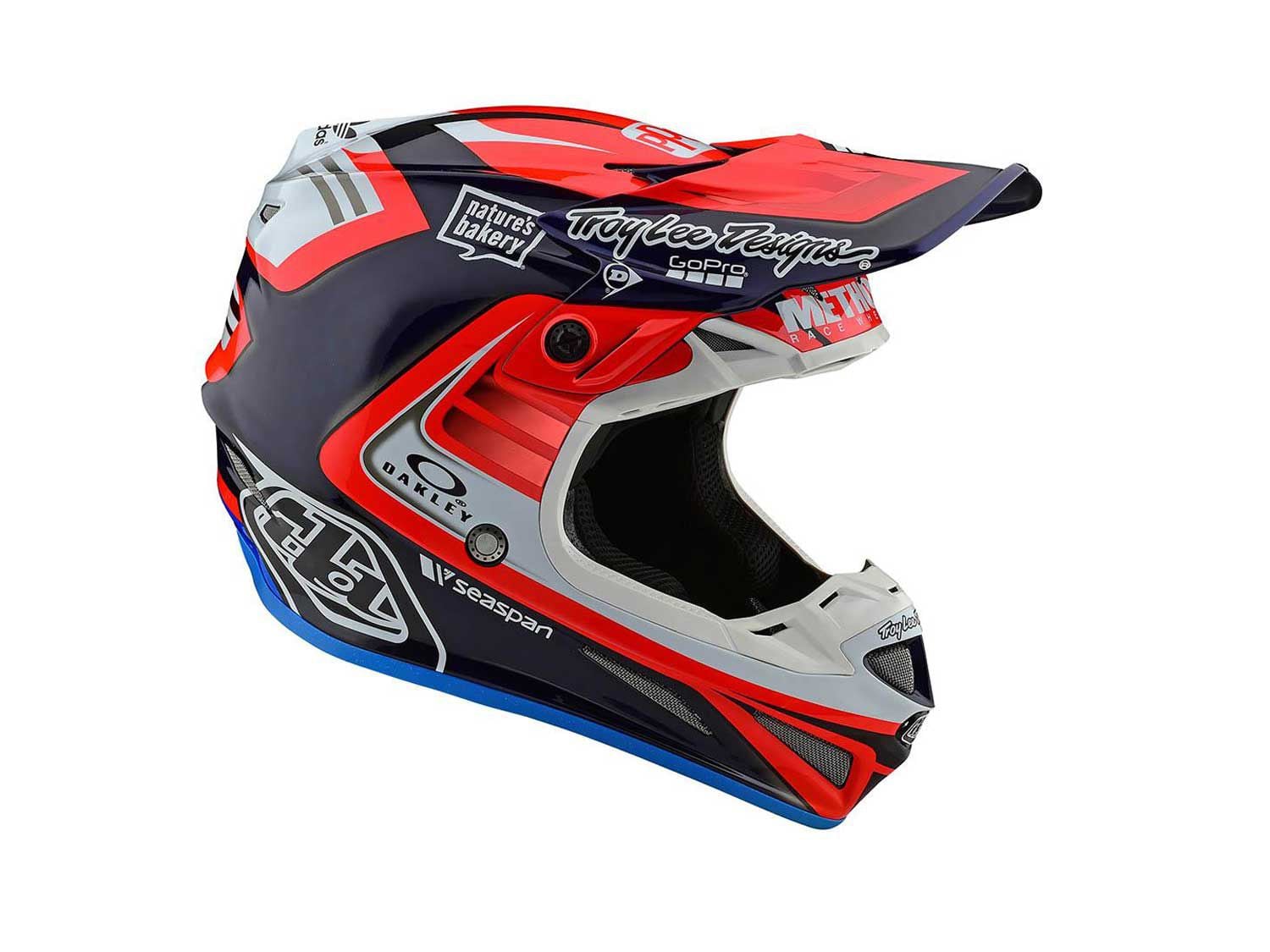 Unsurprisingly, the entire Troy Lee Designs/Red Bull/KTM team wears SE4 Carbon helmets, and the Flash Team design in blue/red (pictured) features many of the factory KTM 250 effort's sponsors. (Courtesy of Troy Lee Designs/)
The
SE4 Carbon is Troy Lee Designs'
flagship dirt bike helmet. It is equipped with Multi-Directional Impact Protection System (MIPS)—a brain protection system that is designed to reduce rotational forces to the brain in some crash scenarios. Other features include an EPP (Expanded Polypropylene) chin bar, anatomical 3-D-contoured cheek pads with an emergency release system, and removable snap-in, washable comfort liner with Coolmax and Dri-lex moisture-wicking materials.
Troy Lee Designs SE4 Carbon MSRP: $675–$679
Leatt GPX 6.5 Carbon
The Leatt GPX 6.5 Carbon utilizes a carbon matrix shell that is offered in three sizes. (Courtesy of Leatt/)
Leatt offers head to toe protection for motocross and off-road riders, including neck braces and goggles. The South African company's top-shelf dirt bike helmet,
the GPX 6.5 Carbon
, features 360° Turbine Technology. According to Leatt, that means the helmet is lined with turbines, which are 360-degree moving discs constructed from an energy-absorbing shape and material. Leatt claims the technology has two key advantages—the reduction of rotational acceleration to the head and brain, and the absorption of energy upon impact at the concussion level.
Leatt GPX 6.5 Carbon MSRP: $499.99
Klim F5 Koroyd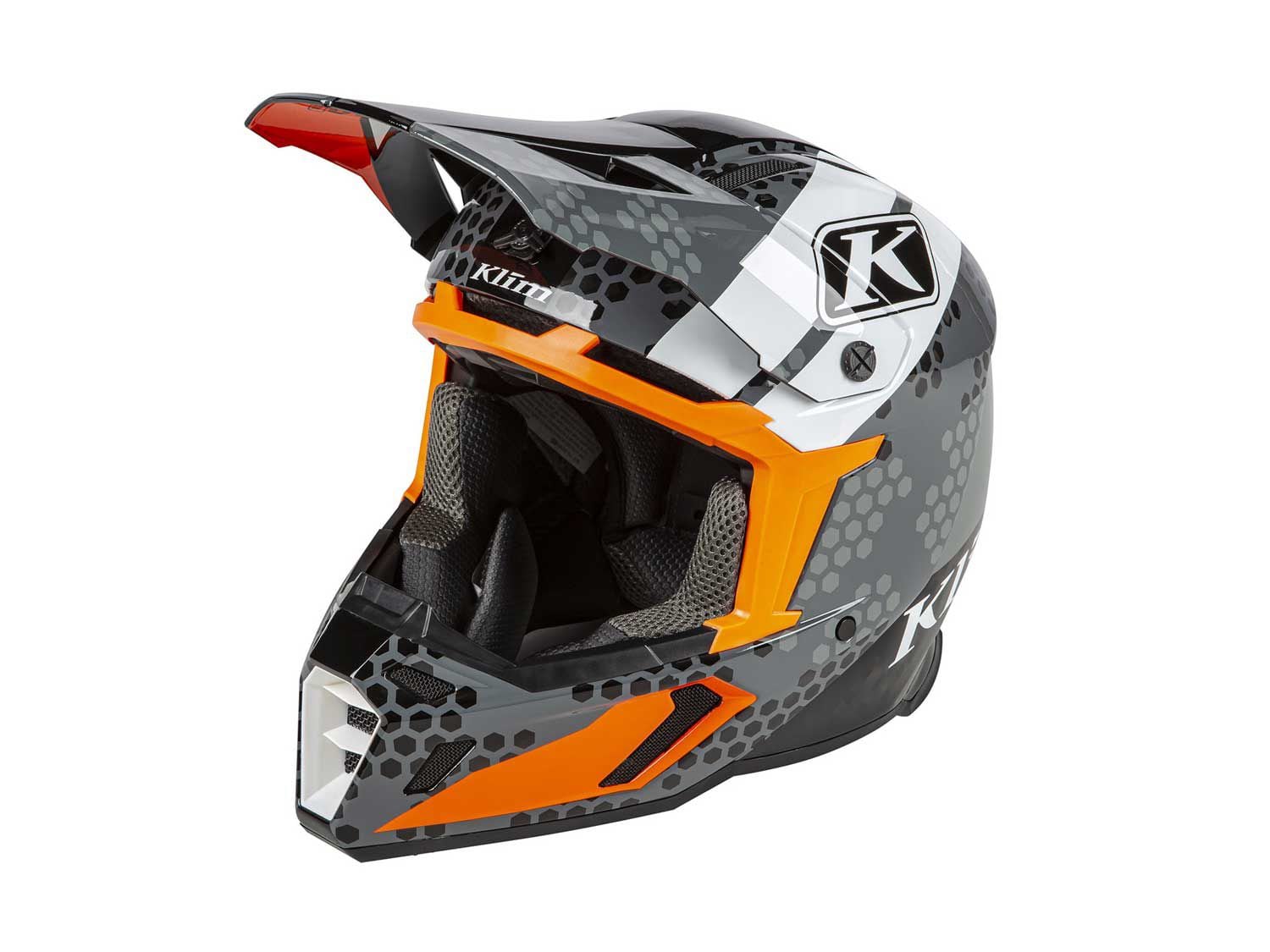 The most expensive helmet in Klim's lineup is the F5 Koroyd. (Courtesy of Klim/)
The Klim F5 Koroyd helmet gets part of its name from one of its most prominent safety features. According to Klim, Koroyd is an energy-absorbing technology that is engineered with a unique structure and energy management properties. Klim claims that when the Koroyd is impacted, its cores crush homogeneously, thereby decelerating the energy from the impact. Another safety feature of the F5 Koroyd is the MIPS brain protection system.
Klim F5 Koroyd MSRP: $519.99–$649.99
Read More HERE...